The fact that I make pumpkin bread every year might lead you to believe that I am a baker. Let me be clear. I bake. I am not a baker. My son loves pumpkin bread, that's why I make it. Plus, I will say, it does make the house smell absolutely fabulous! I got the base of this recipe from my aunt, I just changed it up a bit to suit the tastes of my son. She is an amazing cook and convinced me that I could actually bake if I tried!
Level of Difficulty: Moderate
Time Required: Prep Time – 15min; Cook Time – 1 + hour
Ingredients:
3 1/2 c. all purpose flour
2 tsp. baking soda
1 1/2 tsp. salt
1 1/4 tsp. cinnamon
1 1/4 tsp. nutmeg
1 tsp. ground gloves
3/4 tsp. mace
1/4 tsp. allspice
3 c. sugar
1 (16oz) can pumpkin
1 c. corn oil
2/3 c. water
4 eggs
Special Equipment and Other Items Needed:
2 Loaf pans
Non stick cooking spray
Preparing Pumpkin Bread:
Preheat the oven to 350 Degrees. Spray the loaf pans with non stick cooking spray. Combine the flour, baking soda, salt, cinnamon, nutmeg, cloves, mace, allspice and sugar together in the Kitchen Aid. Mix well. In a separate bowl, combine the pumpkin, corn oil, water and eggs and mix well. Pour the pumpkin mixture in the Kitchen Aid and mix well. Pour the batter equally into the two loaf pans. Bake about an hour, or until a toothpick come out clean when you stick it in the center of the bread.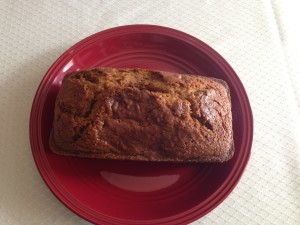 Important Tips:
Make sure you let the bread cool in the bread pan before taking it out of the bread pan. If you do it too early, part of the bread will stick to the pan. If you are going to freeze it, wrap it in saran wrap and then aluminum foil before placing in a resealable bag.
Variations:
I don't put any nuts in my pumpkin bread, but feel free to add some pecans or walnuts if you like. Some people also like to add dates or raisins too. You can't got wrong with either one!