I never liked stuffing growing up. I'm not sure why, I just didn't. However, once my sister introduced me to cornbread stuffing, all of that changed. In my opinion, it really is the best. No, I don't stuff the turkey with the stuffing. Why? I think it's because it was never stuffed when I was growing up and sometimes, you just stick with what you're used to!
Level of Difficulty: Easy
Time Required: Prep Time – 5 min 1st day, 10 minutes when you make the bread; Cook Time – 15 minutes 1st day, 45 minutes on the day you cook it.
Ingredients for a 9×13 tray:
2 boxes of Jiffy corn muffin mix (I think Melissa is having a heart attack on this)
6 T. fresh sage
4 celery stalks, chopped
1 medium onion, diced
6 T. butter
3 – 3 1/2 c. chicken broth
Special Equipment and Other Items Needed:
Preparing Cornbread Stuffing:
Cook the corn muffin mix as directed in a 9×13 baking pan.Let it sit for at least 2-3 days to get stale. If it is not stale by the time you need to make the stuffing, you can crumble it up and pop it in a 250 Degree oven until it dries out.
In a large pot, melt the butter. Add the onion and celery and sauté on medium high heat until soft, about 10 minutes.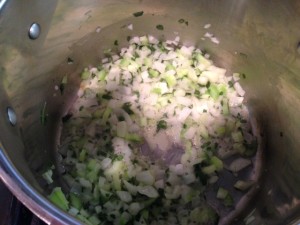 Add the sage and cornbread and mix well. Add chicken broth to moisten it up. Stir well. Transfer stuffing to your 9×13 tray and bake for 30 minutes. Serve hot!
(Here is a single box that I made just for my family)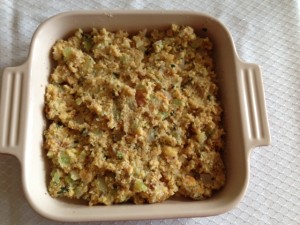 Yes, it's a good thing I know CPR! I just got hung up on the cornbread name. This sounds like corn muffin stuffing. However, as much as I like cornbread (cooked properly in a cast iron skillet with corn meal and oil!), I hate cornbread dressing. So, maybe I'll like yours Denise since it is different!! – Melissa