When I first saw this recipe for toasted ravioli, I thought I was going to have to make the ravioli from scratch. Most recipes for ravioli I find call for making them from scratch using wonton wrappers or homemade pasta. It's not that I'm a lazy cook, but I am certainly a fan of finding delicious shortcuts! Food Network comes through again with this toasted ravioli that is made from store bought fresh ravioli!
Level of Difficulty: Moderate
Time Required: Prep Time – 45 min; Cook Time – 15 – 20 min.
Ingredients:
3/4 to 1 lb. small, fresh ravioli
3 large eggs, beaten
1 1/2 c. milk
2 c. breadcrumbs
3 T. finely chopped parsley
1 tsp. finely chopped rosemary
Kosher salt and freshly ground pepper
Vegetable oil for frying
1/2 c. grated parmesan cheese
Marinara sauce for dipping
Special Equipment Needed:
Fry Daddy or Deep Skillet
Preparing Toasted Ravioli:
Spread the ravioli on a baking sheet and freeze until hard, 20-30 minutes.
Whisk the eggs and milk in a shallow bowl or pie plate. Mix the breadcrumbs, parsley, rosemary and 1/2 tsp. each of salt and pepper in another shallow dish.
Dip the ravioli in the egg mixture, letting the excess drip off, then coat with the breadcrumb mixture. Return to the baking sheet and freeze until hard, about 15 minutes.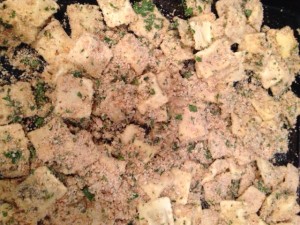 Heat about an inch of oil in Fry Daddy or skillet. Fry the ravioli in 2 to 3 batches, turning as needed, until golden brown, about 4 to 6 minutes per batch.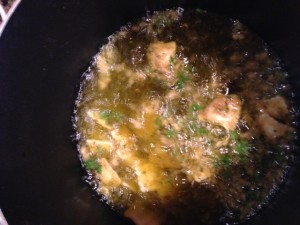 Transfer to paper towel lined baking sheet to drain and immediately sprinkle with parmesan. Serve with marinara.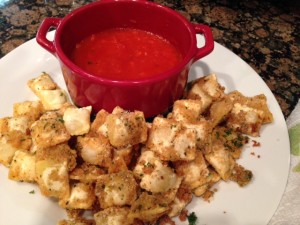 Variations:
Use different kinds of ravioli each time you make it. Cheese one time, meat the next…or a combination of the two!
You can do this same thing in the oven instead of the fryer to save a few calories and a little mess too!! Everything stays the same just don't freeze the ravioli first. – Melissa