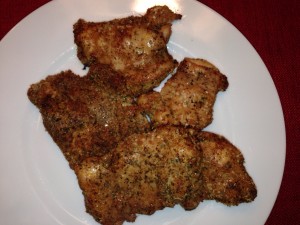 If you have followed our blog long enough, you will know that we have sort of cornered the market on Bacon Wrapped Chicken Thighs. I was trying to find new way to make chicken thighs that would be quick, delicious and healthier. I came up with this recipe for oven baked chicken thighs. I have to say, I love the little prep time and the taste was amazing!
Level of Difficulty: Easy
Time Required: Prep Time – 5 min; Cook Time – 30 min.
Ingredients:
5 boneless, skinless chicken thighs (typically I would plan on 2 per person)
1/4 tsp. garlic salt
1/4 tsp. onion powder
1/4 tsp. Kosher salt
1/4 tsp. dried oregano
1/4 tsp. dried thyme
1/4 tsp. paprika
1/4 tsp. fresh ground pepper
Preparing Oven Baked Chicken Thighs:
Preheat oven to 375 Degrees. Spray a broiler pan with non-stick cooking spray. Put all spices in a large resealable bag and mix well. Trim the excess fat off of the chicken thighs and add to the bag. Shake the bag well to coat the chicken thighs on all sides. Put on broiler pan and cook for 30 minutes.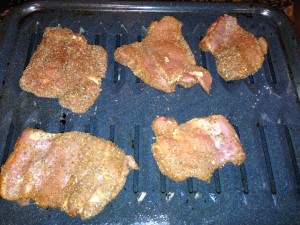 Chicken will be crispy and delicious!!!