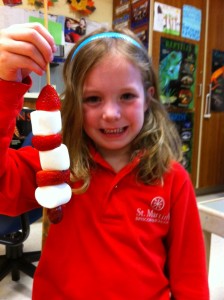 Today, I had the pleasure of being the Mystery Chef at my daughter's school. This entails
1) Keeping a secret
2) Obtaining the ingredients for a fun and edible snack
3) Working with the kids to make it
Each year, the kids celebrate Dr. Seuss' birthday so that was the theme. We made these adorable Cat in the Hat Skewers for the snack with strawberries, marshmallows and a grape.
Dr. Seuss Cat in the Hat Snack
The kids had a great time making it and eating their finished product. This would be a fun snack to make at home for the kids too.
For each snack you will need:
3 marshmallows
3 strawberries (one whole strawberry and two sliced strawberries)
1 grape
1 skewer (you might want to remove the point)