Last summer, I went to Mexico and came back with two amazing Summer Cocktails . I recently went down to Orange Beach with a friend and decided that it was my duty to share with you some fantastic beverages that were enjoyed down there as well.
By the pool:
Most people drank beer by the pool. We saw lots of Michelob Ultra but we did notice some Bud Light and other "light" beers. Regardless…it was still light beer in can. When you are in a bikini, all of that carbonation is not exactly fantastic for the mid-section. So…what is the next best option when you are by the pool for 6-7 hours a day? Vodka!!! A dear friend told me about vodka and Fresca. Yes…I know that Fresca has carbonation, but when you limit it to just one (no more than two), it doesn't have the same effect as drinking it all day! The friend I went with stuck with vodka and Crystal Light lemonade drinks. How do you make that you ask?? So simple. Take a water bottle and drink about 1/4 of it. Add the lemonade pack and shake. Add the vodka and "gently shake". You can drink it right out of the water bottle or you can pour it over ice in a solo cup! When you are allowed to bring your own cooler to the pool, life is very simple.
When you're out:
Obviously, you need a Bushwacker when you're in Orange Beach. Typically, this is made with milk, cream of coconut, coffee liqueur, and creme de cacao. Sometimes the milk is substituted for ice cream. Regardless of which recipe you are served, it is delicious. My friend had one over at Tacky Jacks. I opted for a Lava Flow (a drink I found on a trip to Hawaii years ago…half pina colada/half strawberry daiquiri). My favorite!
If you've never been to Flora-Bama, you really should put it on your list if you're down there. It is an "experience" for sure. You will see all sorts when you are there and the people watching alone makes it worthwhile. Since we weren't into the sugary drinks, we opted for Landshark beer. When you're at the beach, it's served in a can, but at least it was a beer with a bit of substance!
We had a fantastic bottle of wine over at Cobalt. It was a Sauvignon Blanc from our favorite region in the world…Marlborough, New Zealand. We enjoyed the bottle of Matua while the sun was setting.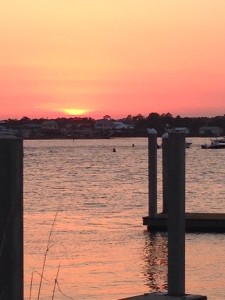 Note: For those of you who live in Atlanta, you can get Matua at the Dekalb Farmers Market for $9.99!!