When you are cooking a lot of heavy food for a meal, it is nice to have something light that also tastes really good. For the 4th of July, I was cooking a lot of BBQ. I had both BBQ ribs and pulled pork and both of those are pretty fatty and really heavy. Add baked beans and mac 'n' cheese and everyone is going to feel so full they won't enjoy the rest of the evening. So, lighten' it up!
Here is a great and simple salad using fresh from the garden ingredients.
Level of Difficulty:Easy
Time Required:Prep Time – 30min
Ingredients for 8-10 people:
5 ears of corn
1 pint of grape tomatoes, cut in half
1 large zucchini, diced
Juice of 3 limes
3 T Olive oil
1/2 red onion, finely diced
2 jalapenos, finely diced
salt, pepper, chili powder, cayenne to your taste
Preparing Corn, Tomato and Zucchini Salad:
Cut the corn off the cob and place in a small pot with about 1/2 cup of water. Place on high and stir a couple of times until the corn turns a bright yellow, maybe 4-5 minutes. Remove, drain and let cool.
While that is cooling, cut your tomatoes, zucchini and jalapenos. You can then juice your limes, add the olive oil and spices. Add in the corn and stir together. Give it a taste and add spices to meet your liking but remember that cayenne usually gets hotter after it has a chance to blend.
Serve cold with all your favorite summertime meals. Delicious!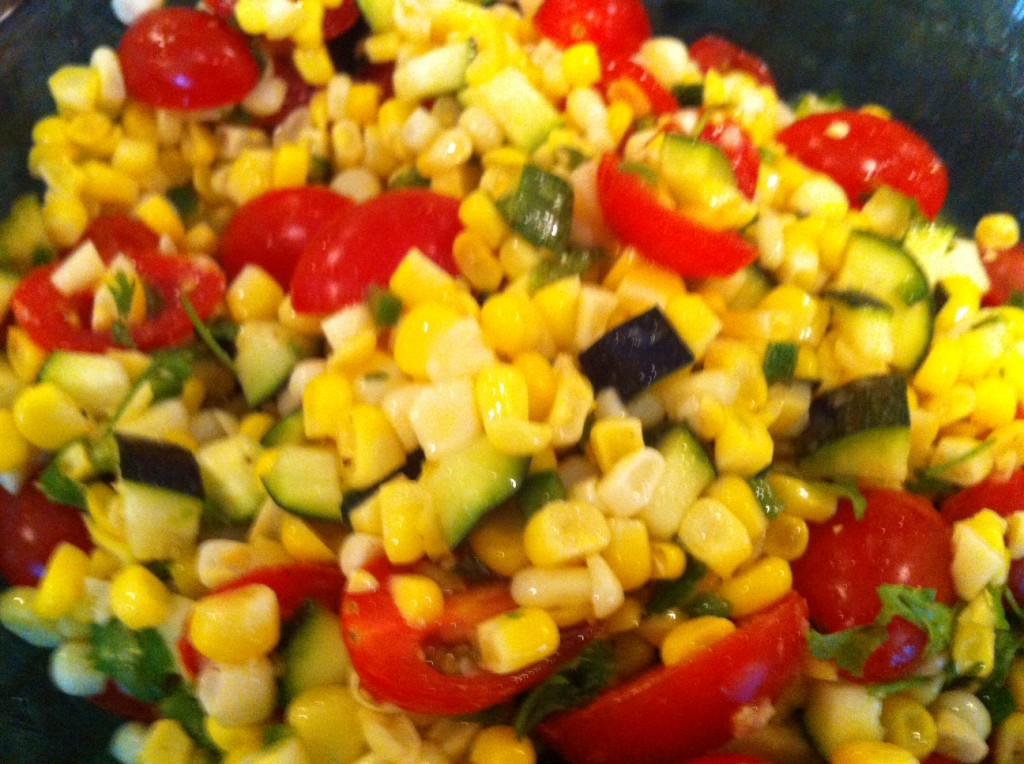 Variations:
I varied this from a Food Network recipe I saw that called for cucumber. I did not have any cucumber so I added the zucchini instead. I think it tasted better but nothing wrong with cucumber!