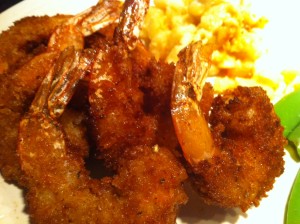 I love fried shrimp! Probably one of my top 5 foods. I have a real problem knowing when I've had enough to the point where I just don't stop until all the shrimp are gone. As a kid, I thought it was hilarious that I'd eat the tails too and laugh with my parents that I had not eaten any shrimp. Yea. I know. Lame. But that's what kids do!
I cook fried shrimp so many different ways but this is one of my favorites. I hope you enjoy.
Level of Difficulty: Moderate
Time Required:Prep Time – 30min; Cook Time – 20 min
Ingredients for 4:
2 dozen large shrimp
1 cup Italian bread crumbs
1 cup Panko bread crumbs
2 eggs
1/2 cup water
Vegetable oil
Lemon to serve with
You'll need sauces. I made cocktail sauce with ketchup, horseradish, lemon and Worcestershire. Sriracha mayo would be good too. Tartar sauce is clearly a staple too.
Special Equipment and Other Items Needed:
Cast Iron Skillet. If you don't have one of these, you need one!
Preparation:
Peel and devein the shrimp. We've talked about this before if you need to know how. Place the bread crumbs (both kinds) in a bowl. Add salt and pepper and whatever other spices you like. I usually add some cayenne and chili powder.
In a second bowl, add the eggs and water and beat to make an egg wash. Add spices to this bowl too!
Dip the prepared shrimp in the bread crumbs then the egg wash and then back in the bread crumbs. Repeat for all shrimp. Place back in the fridge for a couple of minutes to help the breading adhere to the shrimp.
Place about 2 inches of vegetable/canola oil in your cast iron skillet and place over medium high- heat until the oil is hot. You'll know it is ready to fry when you place a bit of bread crumbs in it and it bubbles quickly.
Add the shrimp, but don't overcrowd, and cook until lightly brown on one side. Then flip and cook until lightly brown on the other side. Remove from oil and let drain on some paper towels. Repeat for remaining batches. Serve with some yummy sides and a great sauce. Yummm!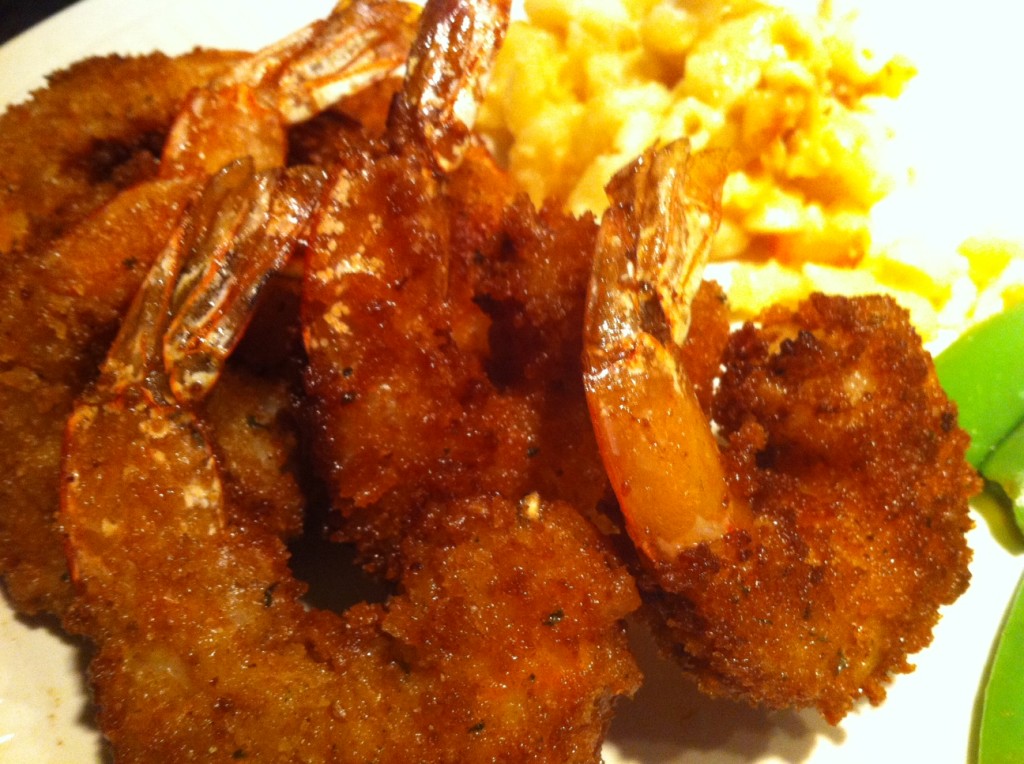 Important Tips:
Don't overcook the shrimp. Remember the 'C' shape means done. If it closes to an 'O' shape, it is overcooked.
Variations:
So many ways to cook fried shrimp. This is just one of my favorites.
Meal Ideas:
Served here with macaroni and cheese and sugar snap peas
Don't faint, but now that I have a cast iron skillet, I would actually make this. Of course, I'm not peeling and deveining anything. I bet I could use tongs to make sure I don't touch them either!!! I'll keep you posted! ~Denise