Thai Red Curry Recipe: Shrimp with Snow Peas and Lo Mein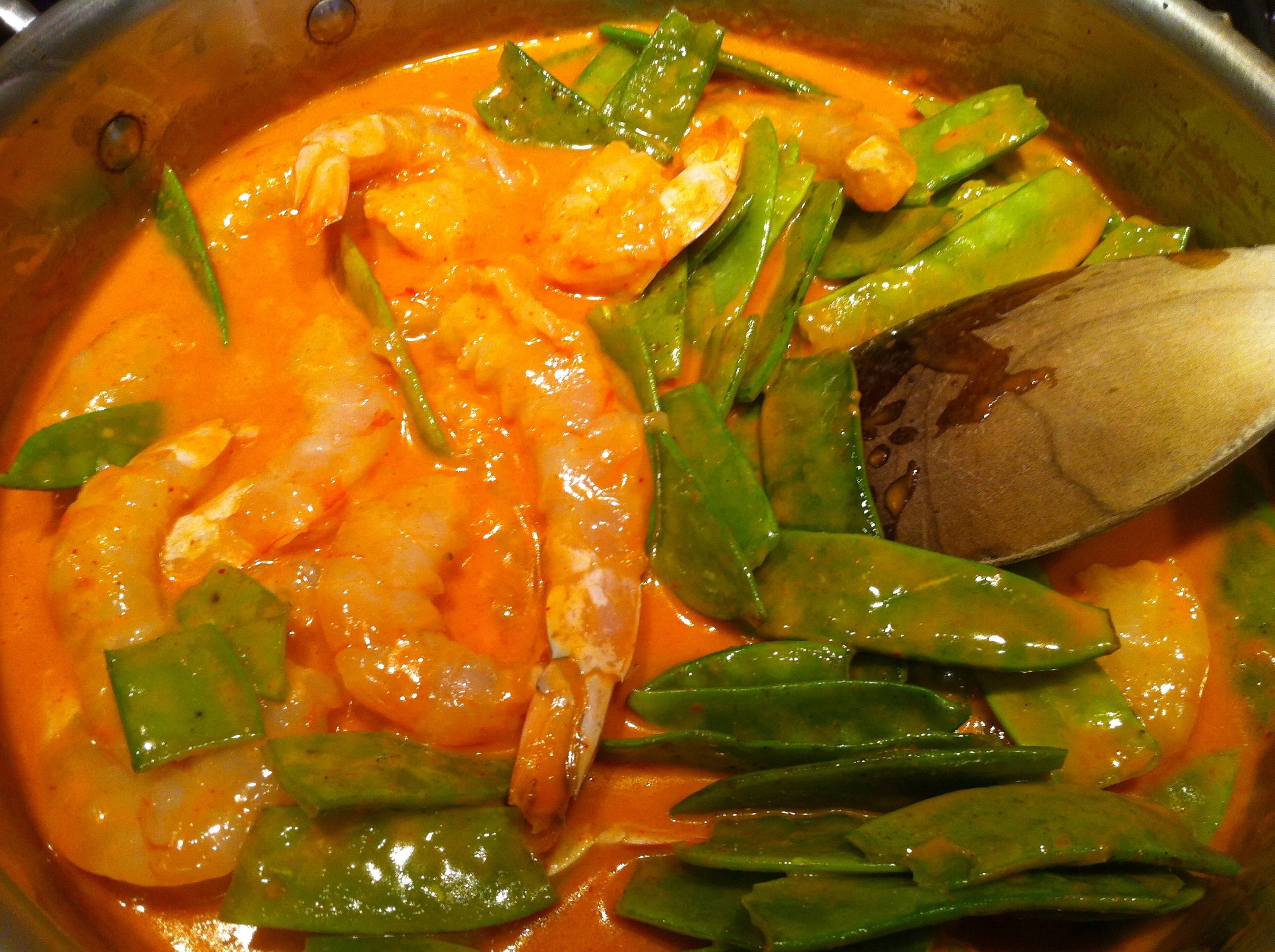 I love Thai food and so does my husband. He likes it super spicy but we've found a happy middle ground with this great red curry recipe. I almost always make this with chicken but there was a good deal on some large pink shrimp that I could not resist so I made it with shrimp. Yummy.
Level of Difficulty: Moderate Time Required: Prep Time – 20min; Cook Time – 15 min
Ingredients:
for two servings
1 lb of large (15-18 per lb) shrimp
8 oz wide lo mein noodles
prepared vegetable of choice (I used snow peas)
2 – 6T Thai red curry paste (the more, the hotter)
1 can coconut milk
1-2T brown sugar
1/4 cup chicken stock
1T fish sauce (optional)
fresh basil leaves
Preparation: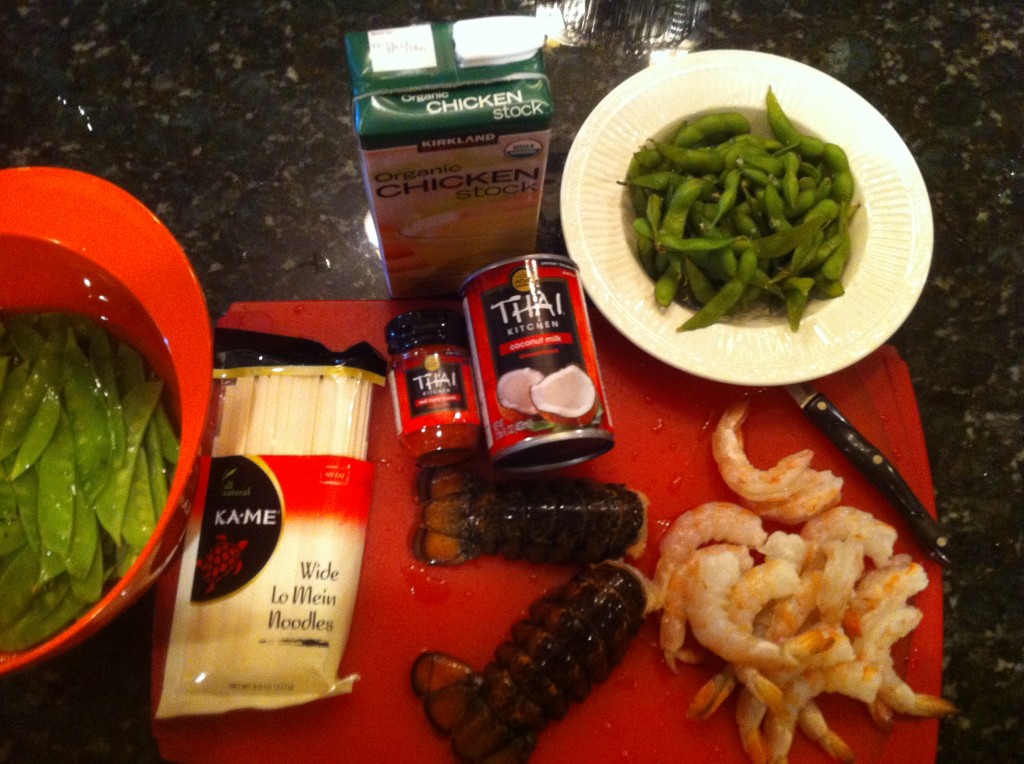 Prepare snow peas according to link above so they are nice and crispy. Peal and devein shrimp. This post has instructions on how to do that if you are uncertain. Get pot of water ready to boil lo mein and turn on high to get started.
In a skillet, add coconut milk, chicken stock, fish sauce and brown sugar.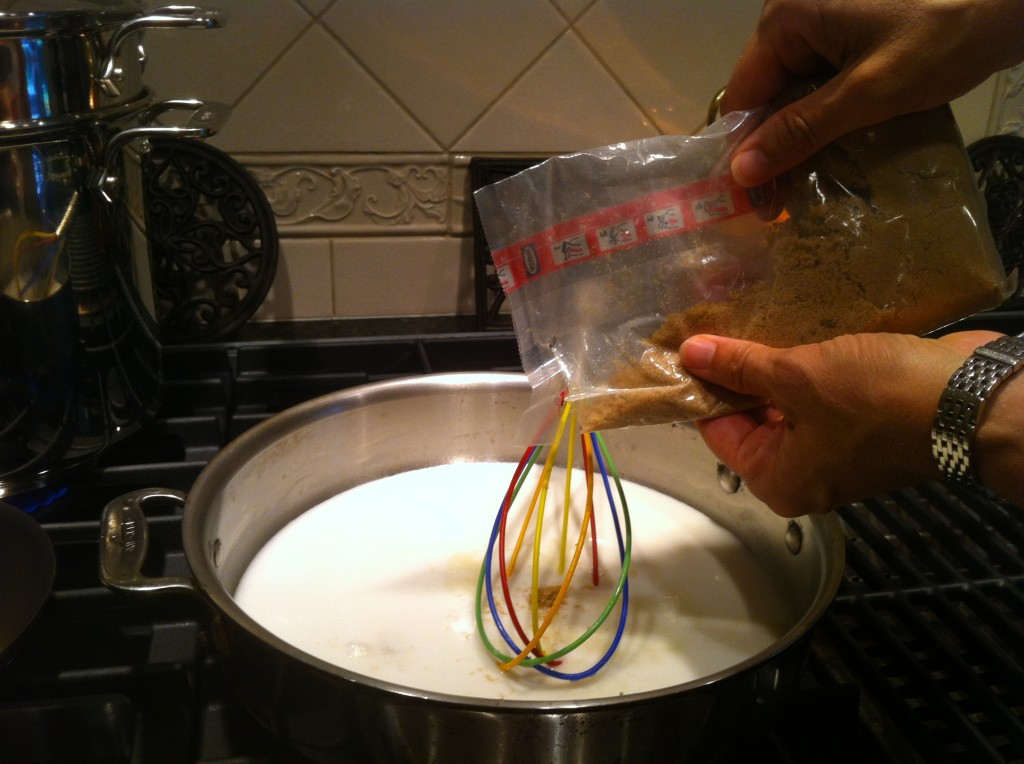 Simmer over medium heat and whisk together. When warmed through, add the desired amount of red curry paste. Remember, you can always add more paste to make it hotter, but you can't remove it. So, start with 2T, incorporate it, taste and add more as you desire.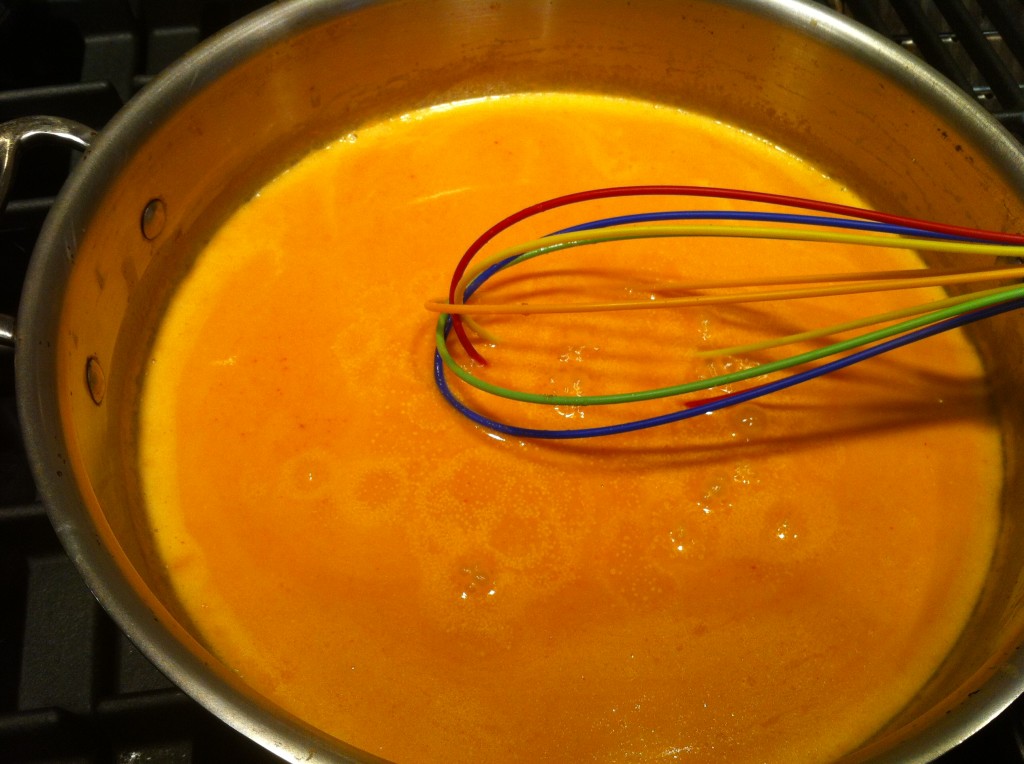 When the sauce is ready and the water is boiling, make sure you are ready as everything else is really quick (including colander in the sink to drain the pasta). 5 minutes from here.
Drop the pasta in the water, add a bit of salt. Add the shrimp and vegetables to the sauce and turn to medium high heat. Stir to incorporate and move the shrimp around as they cook. It will really only take about 5 minutes to cook the shrimp without overcooking.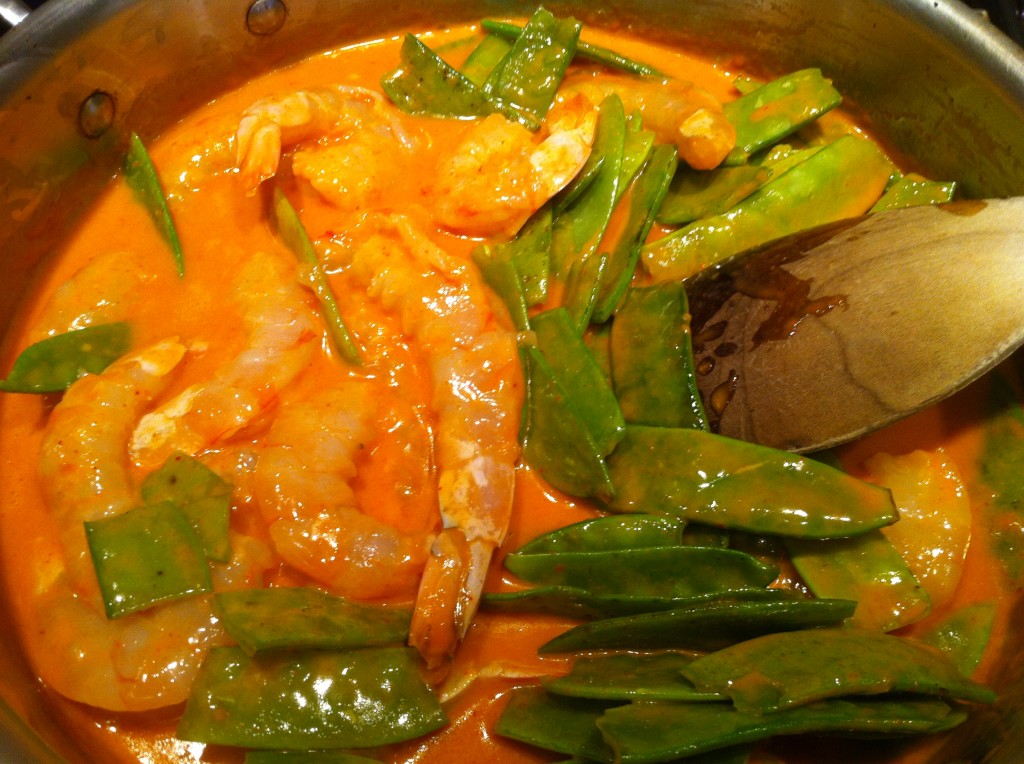 Drain the pasta.
Plate the pasta. Top with shrimp and vegetables. Spoon over the sauce and serve.
Picture below includes a small butter poached lobster tail (they too were on sale!!!)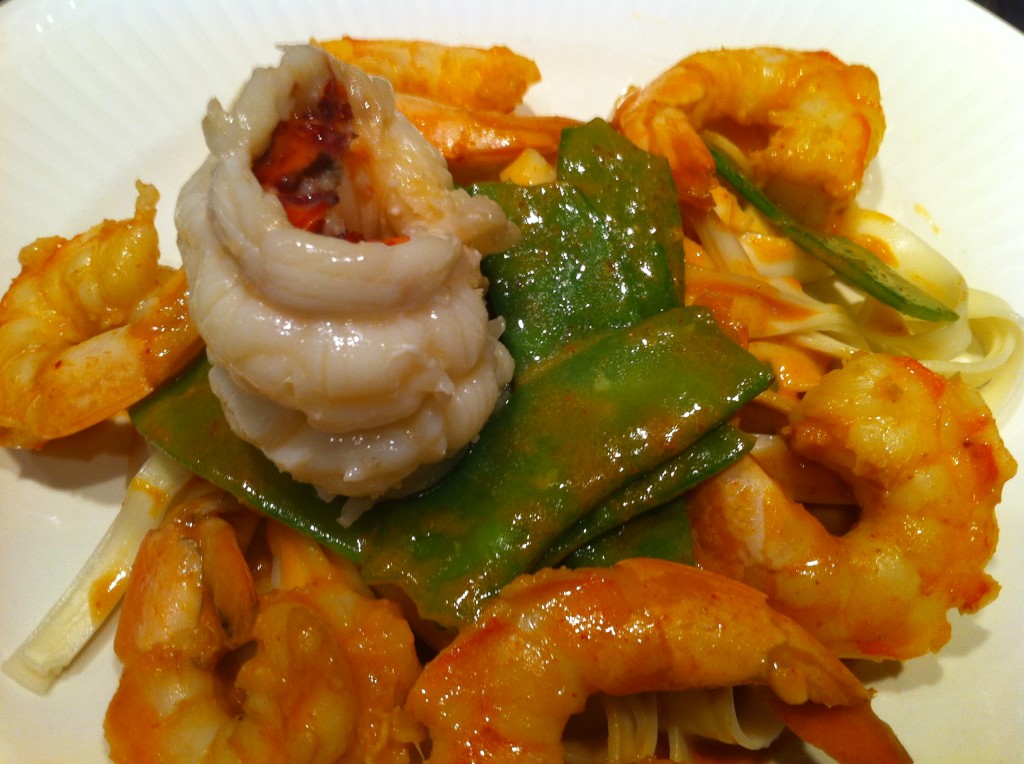 Important Tips:
Most of this dish is really quick. So be sure to have everything prepared and ready. Before you cook the shrimp or pasta, have your plates out, table set, and drinks made, etc so you are not freaking out at the last second.
Variations:
Use chicken or beef sliced thinly as an option as well. Switch out your veggie too if you like. I like this with snow peas, sugar snap peas, green beans, broccoli, spinach, and asparagus.

If you like things really spicy, this same food company has a green curry paste that you can cook exactly the same way with a lot more heat. You can also always add peppers.
Need kid friendly idea if too spicy? I did everything the same here but had a 2nd skillet where I used a bottled teriyaki sauce and made my daughters' shrimp and snow peas in that instead.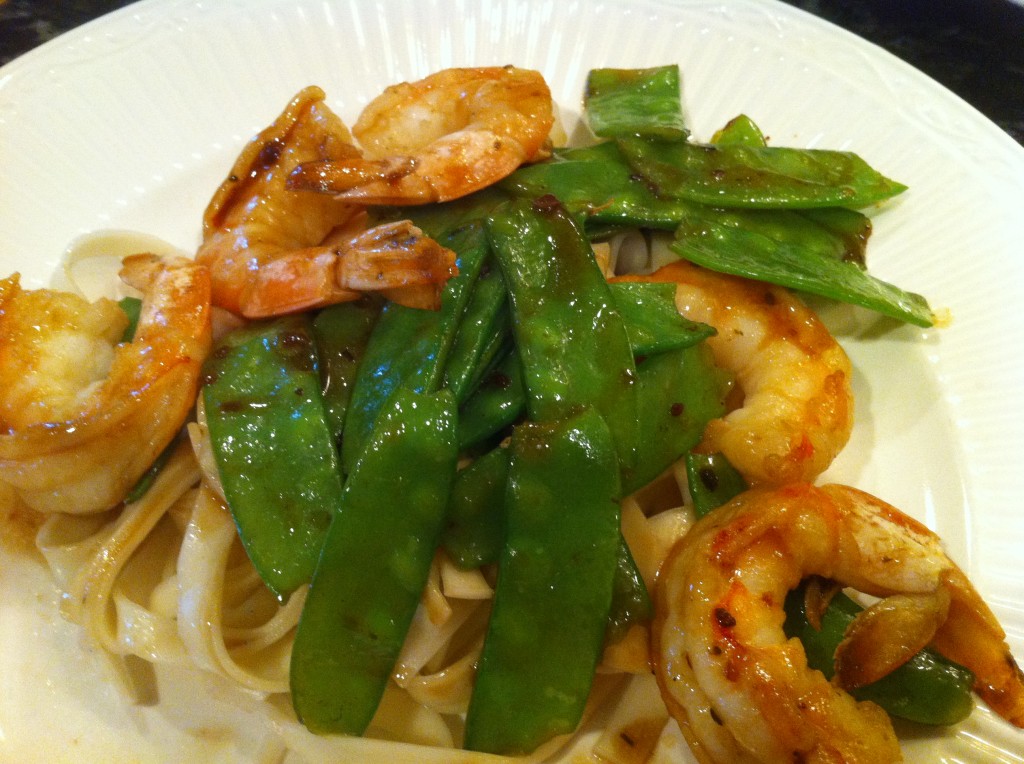 ---
---