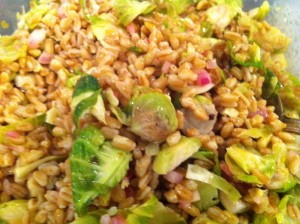 With all the rage being to eat as many super foods at one sitting as you can, I constantly feel the pressure of not eating enough of them! Well, I saw this salad in a recent Food Network magazine and adapted it a bit for me. It was hearty but still light. A bit refreshing but more substantive than a traditional salad and it had a whole grain and Brussles sprouts together! Add my variation of adding blueberries and chalk up another super food! Yay me! Try this Farro and Brussels Sprout Salad next time you are looking to be healthy and impressive.
Level of Difficulty: Easy
Time Required:Prep Time – 40min
Ingredients:
14oz of Farro (I used a bag of Earthly Choice, Italian Pearled Farro – it was also organic)
3 cups Brussels sprouts, sliced thinly
Juice of 2 limes
Juice of 2 lemons
1/2 red onion
1 cup chopped and toasted walnuts
olive oil
salt and pepper
Preparing Farro and Brussels Sprout Salad:
Slice the Brussels sprouts into thin strips. Place on a baking sheet. Add salt and pepper and toss with a bit of olive oil. Cook for about 7 minutes in a 450 degree oven just to help them soften up.
Cook the farro according to the package directions. In general it takes a lot of water and about 30-40 minutes.
While that cooks, chop your remaining vegetables and the walnuts, juice your fruit and combine everything together as it becomes ready. Stir together and chill.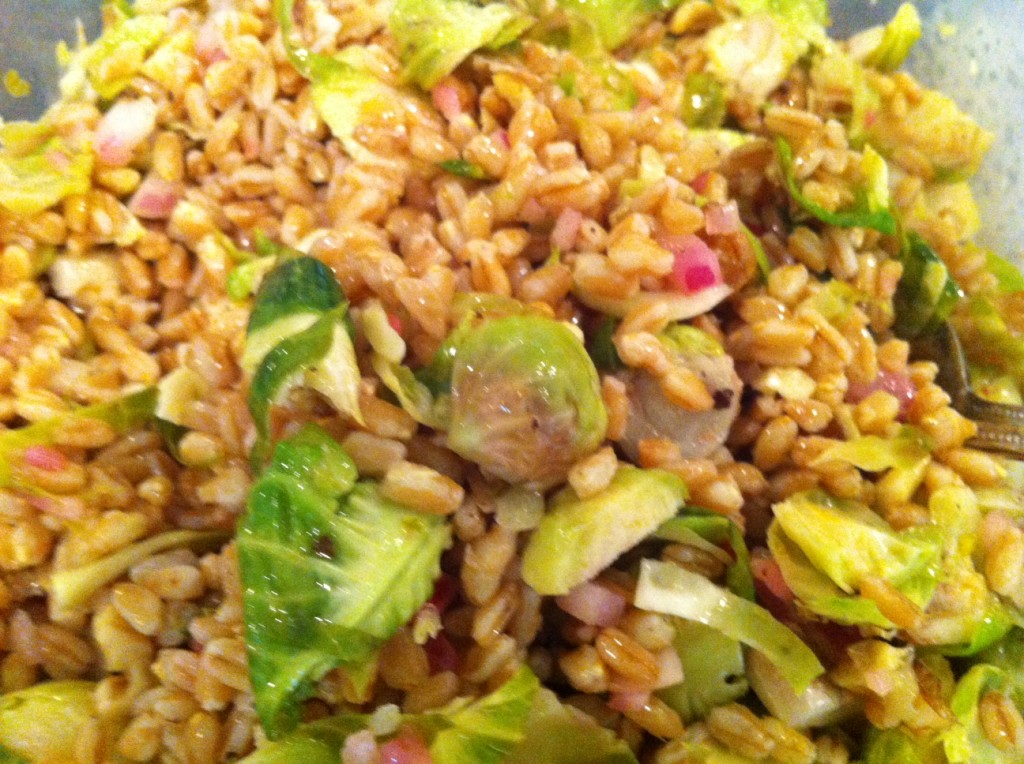 Variations:
I think this would be great to add blueberries to as well. I also think it would be great to substitute the citrus and olive oil with the Girard's Champagne Vinaigrette dressing too! Next time!