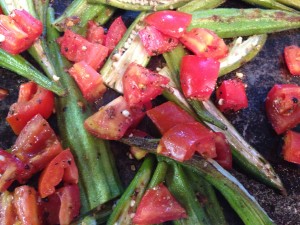 Like a true Southerner, I love okra! A friend of mine (other than Melissa) has a beautiful garden. The other day, she gave me a bunch of okra and tomatoes. She had told me that she recently made stewed okra and tomatoes for her husband and it was delicious. Fast forward a couple of days…the kids are starving when they get home from school, and I had about an hour to get them fed, make sure homework was done, and out the door to volleyball practice. I wanted a little something to eat, but not what I was making the family. I looked at the fresh produce sitting in my basket and thought, "Let me try roasted okra and tomatoes!" This dish really could not have been easier to make or more delicious to eat!!
Level of Difficulty: Easy
Time Required: Prep Time – 5 minutes; Cook Time – 20 minutes
Ingredients:
Fresh Okra, desired amount, cut in half lengthwise
1-2 plum tomatoes, diced
Olive Oil
Slavo Salt, or you favorite seasoning salt
Preparing Roasted Okra and Tomatoes:
Preheat oven to 425 Degrees. Put okra in a large mixing bowl. Add just enough olive oil to coat the okra and add a few shakes of Slavo Salt. Mix well and put on baking sheet. Roast for 15 minutes. Meanwhile, put the tomatoes in a small mixing bowl. Drizzle a bit of olive oil over the tomatoes and add a bit of Slavo Salt. Mix well. Add the tomatoes to the okra and roast for 5 minutes. That's all!!!
Important Tips:
Make sure you don't cook the tomatoes and the okra together the whole time. If you do, the tomatoes will be very mushy and watery!