In my household, hardly anyone likes melon. It doesn't matter if it is watermelon, cantaloupe, honey dew or some other kind of melon, they just don't like it. I, for the life of me, don't get it. Certainly I can understand why people say they don't like honey dew because you so often get served the hard, tasteless, unripen version. But good, cold, ripe, sweet, and juicy melon is delicious!
This is an elegant way to serve it and make it taste even better. There is something about the nutty parmesan cheese that makes this a dish you'll go back to for seconds and thirds!
Level of Difficulty:Easy (only thing 'hard' is getting a ripe melon)
Time Required:Prep Time – 30min; Cook Time – 1 hour
Ingredients for about 6 servings:
1/2 honey dew, canary or cantaloupe melon
Drizzle of Extra Virgin Olive Oil
1 T fresh thyme leaves (lemon thyme if you have it)
Fresh cracked black pepper
4 oz Parmigiano Regianno Cheese
Special Equipment and Other Items Needed:
How to make melon with thyme and parmesan:
Pick a good, ripe melon. Wash your melon. Slice it in half. Scoop out the seeds and discard. Remove the peel. The links here will provide more detail on picking, washing and peeling a melon if you need it.
Slice the melon thinly into about 3 inch strips. The thinner the better really. I've had versions of this at a restaurant where they called this a melon carpaccio.
Place on a platter.
Drizzle lightly with the olive oil. Crack some fresh pepper on top. Add your fresh thyme leaves.
Using your vegetable peeler, shave thin but long strips of the parmesan and add on top.
Oh my is this a fresh summer treat!!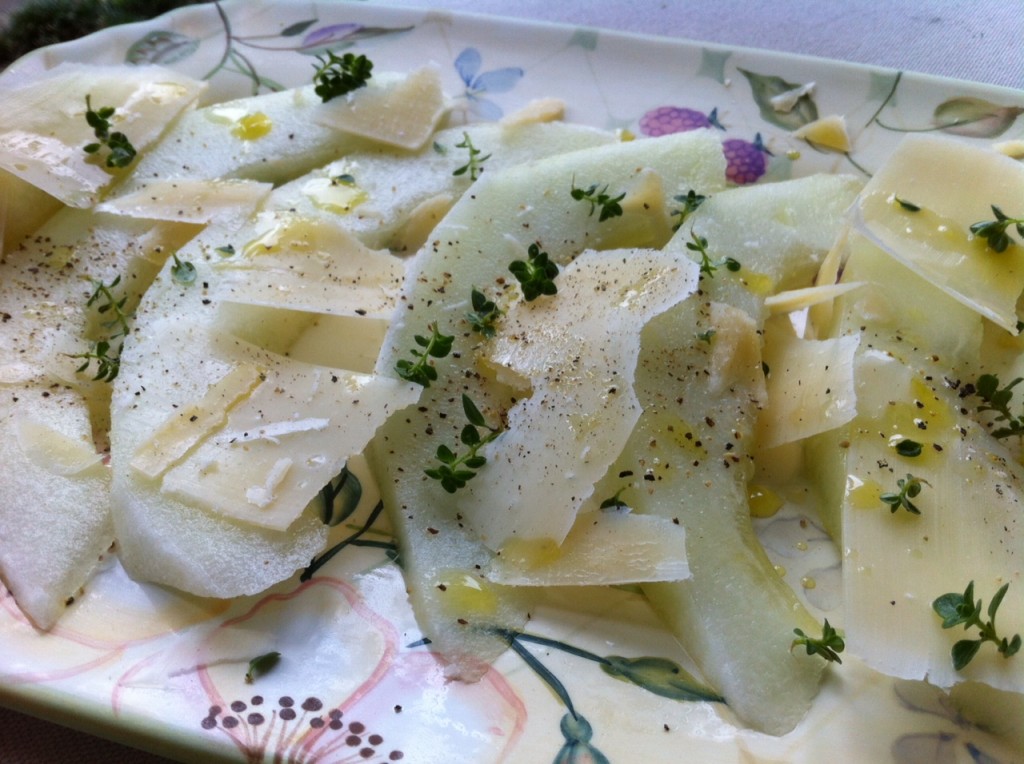 Important Tips:
Get a fresh melon and serve cold.
Use the real deal for the parmesan. Powdered or already shredded is not going to cut it for this dish!
Variations:
Change out the melon variety or dry small amount of rosemary instead of the thyme.
My kids absolutely love melon. This is something they would eat for sure!! ~Denise