Kale Citrus Salad
For the holidays, I typically make a salad that has craisins, glazed pecans and feta cheese with a champagne vinaigrette. This year, however, I wanted to do something different. I found this recipe in the Thanksgiving 2014 issue of Southern Living and thought I'd give it a try. I thought it was fantastic, but I love every ingredient in this salad. If you aren't a red onion fan, use less than what the recipe calls for.
Level of Difficulty: Easy
Time Required: Prep Time – 20 minutes
Ingredients:
3 large oranges
2 Ruby Red Grapefruit
3 T. orange juice
2 T. white wine vinegar
2 1/2 tsp. dijon mustard
1 tsp. sugar
1 tsp. kosher salt
1 tsp. honey
1/2 tsp. freshly ground black pepper
1/4 c. extra virgin olive oil
1 5 oz. package baby kale
1/2 c. thinly sliced red onion
Special Equipment and Other Items Needed:
Whisk
Preparing Kale Citrus Salad:
1. Peel oranges and grapefruit; cut away bitter white pith. Cut each orange into 1/4 in. thick rounds. Holding 1 peeled grapefruit in the palm of your hand, slice between membranes and gently remove whole segments. Repeat with remaining grapefruit.
2. Whisk together orange juice and next 6 ingredients. Add oil in a slow steady stream, whisking constantly until smooth. Toss together kale, onion and 1/2 c. dressing in a large bowl. Add salt and pepper to taste. Top salad with citrus and sprinkle with cheese. Serve with remaining dressing.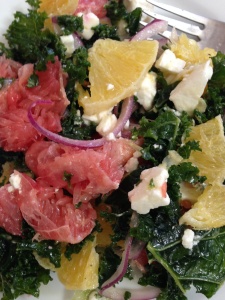 Meal Ideas:
This salad is such a great compliment to any meal. However, if you add a simple piece of grilled chicken or salmon, it would be a great meal all on its own!
Got Leftovers?:
Not everyone likes leftover salad. However, the kale doesn't wilt like typical lettuce does. I thought it was fantastic the next day!
---
---