My son's birthday was this past weekend. I always try to make birthdays special in my house and it starts with a fabulous breakfast! He asked for chicken and waffles. He had never had it before. Actually, no one in my family has ever had it. We have never even ordered it in a restaurant and I had no idea where he got the idea from. Anyway, I had pulled out a recipe for Chicken and Bacon Waffles out of the March 2014 edition of Food Network Magazine a while ago and decided to give it a try. It was a little more labor intensive than dishes that I would normally make, but you can never turn down a request from a birthday boy. My husband handled the bacon and chicken and I took care of the waffles. I typically don't allow people to "help" in my kitchen, but in this case, it worked out very well….and we ended up having an amazing breakfast on Sunday!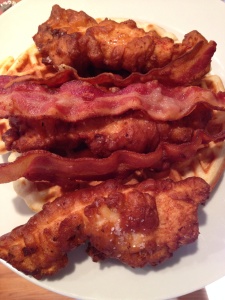 Level of Difficulty: Difficult
Time Required: 1 hour of active hands on time
Ingredients:
FOR THE WAFFLES:
16 slices bacon
4 c. all-purpose flour
2 T. baking powder
1 T. sugar
Kosher Salt
3 large eggs plus 1 egg white
3 c. buttermilk, plus more if needed
1 stick unsalted butter, melted and cooled slightly
Cooking Spray
FOR THE CHICKEN:
3 c. peanut or vegetable oil, for frying
2 tsp. chopped fresh thyme
1 tsp. sweet paprika
1/4 tsp. cayenne pepper
2 pounds skinless, boneless chicken breasts, cut into 1 1/2 in. wide strips
Kosher salt and freshly ground pepper
2 T. all purpose flour
Maple syrup, for serving
Special Equipment and Other Items Needed:
Waffle Iron
Wire Rack
Baking sheet
Preparing Chicken and Bacon Waffles:
1. Make the waffle batter. Dice 10 bacon slices; cook in a large cast iron skillet over medium heat, stirring occasionally until golden brown and crisp, about 8 minutes. Drain on paper towels. Add the remaining 6 bacon slices to skillet and cook, turning occasionally, until golden brown and crisp, about 9 to 11 minutes. Remove to the paper towels; reserve the drippings in the skillet.
2. Combine the flour, baking powder, sugar, 1/2 tsp. salt in a large bowl. Whisk the whole eggs, buttermilk and melted butter in a separate bowl, then whisk into the flour mixture until smooth. Stir in the diced, cooked bacon. Transfer 2 cups of batter into a separate large bowl for the chicken; reserve the remaining batter for the waffles.
3. Make the chicken. Preheat oven to 325 Degrees. Add the oil to the skillet with the reserved bacon drippings; heat over medium-high heat until a deep-fry thermometer reads 350 Degrees. Add the paprika, thyme and cayenne pepper to the 2 cups of waffle batter; add up to 2 T. buttermilk if the batter is too thick. Season the chicken with salt and pepper, then toss with the 2 T. flour. Add the chicken to the batter and set aside until ready to fry.
4. Set a wire rack on a baking sheet. Working in batches, remove the chicken from the batter, letting the excess drip off, then fry until golden brown, about 2 minutes per side; transfer to the rack and season with salt. Transfer to the oven and bake until no longer pink inside, about 8 minutes.
5. Meanwhile, cook the waffles. Spray a waffle iron with cooking spray and preheat. Whisk the egg white in a bowl until soft peaks form; fold into the reserved waffle batter. Ladle 1/2 to 1 cup batter into the waffle iron for each waffle and cook according to manufacturer's directions. Serve with fried chicken, bacon slices and maple syrup.
Important Tips:
This is one of those recipes that you REALLY need to read through before starting the cooking process. There are lots of steps and it's easy to mix them up if you don't take your time!
Got Leftovers?:
The chicken pieces were so big that there was no way anyone could eat more than two. I heated the leftovers up in the oven the next morning, wrapped them in foil, and gave them to kids in their lunches!