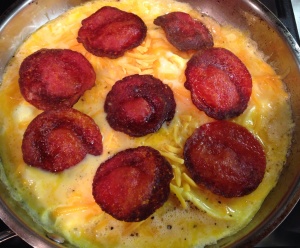 My kids' school starts on the later side, so I am able to make them a hot breakfast without having to get up at the crack of dawn. This cheesy eggs with pepperoni dish is a big hit with them, and the protein fills them up! Normally I would put in turkey pepperoni, but I didn't have any on hand!
Level of Difficulty: Easy
Time Required: Prep Time – 5 min; Cook Time – 10-15 min.
Ingredients:
Pepperoni slices
1 T. butter
6 eggs
1/2 cup non-fat or 1% milk
1/2 c. shredded cheddar cheese
Salt and pepper to taste
Special Equipment and Other Items Needed:
Rubber Spatula
Preparing Cheesy Eggs with Pepperoni:
Spray skillet with non stick cooking spray. Heat the pan on medium. Add pepperoni and cook until crisp, about 30 seconds. Drain on paper towels.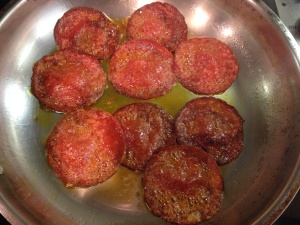 Wipe out the inside of the pan. In a mixing bowl, whisk together eggs and milk. Add salt and pepper. Melt 1 T. butter in pan. Pour egg mixture into pan. Cook until it's almost set (about 5-7 minutes), using a rubber spatula to make sure it doesn't stick to the pan. Add pepperoni and cheese.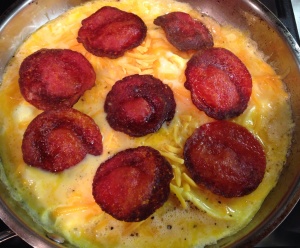 Put a lid on top of the pan to cover and cook until the eggs are completely done and the cheese melts, about 3-5 more minutes. Serve hot!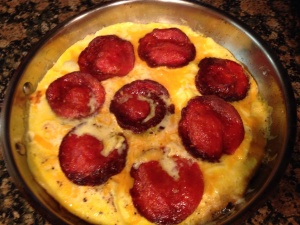 Variations:
Put anything in the eggs that you would put in a traditional omelette. You really can't mess it up!