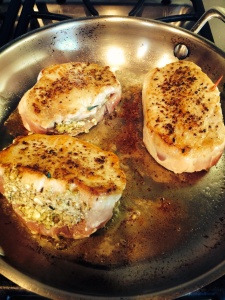 I was going though some meat that I had in my freezer and saw some thick pork chops…perfect for stuffing! I decided to pull them out, but had no idea how I was going to prepare them. I knew I didn't want a bread stuffing and didn't have a long time to prepare them since it was an extra busy weeknight. I settled on a mixtures of feta cheese and pesto with an all purpose seasoning on the outside. These easy stuffed pork chops were pretty awesome, especially for throwing it all together on a whim!
Level of Difficulty: Easy
Time Required: Prep Time – 5 min; Cook Time – 45 minutes
Ingredients for 3:
1 T. olive oil
1 T. butter
Thick cut pork chops (1 per person)
2 T. prepared pesto
1/4 c. feta cheese
Slavo Salt (or your favorite all seasoning spice blend)
Preparing Easy Stuffed Pork Chops:
Preheat oven to 350 Degrees. In a small mixing bowl, mix the pesto with feta cheese. Cut a slit in the center of the pork chop, making sure you don't cut all the way though. You just want to make a "pocket". Gently put the pesto mixture into the slit of the pork chop.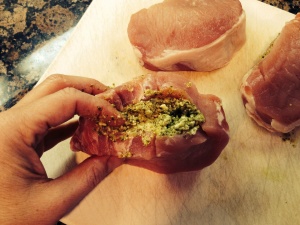 Secure with a toothpick. Repeat with remaining pork chops. Season both sides with desired amount of Slavo Salt. Heat a large skillet over medium high heat with butter and olive oil.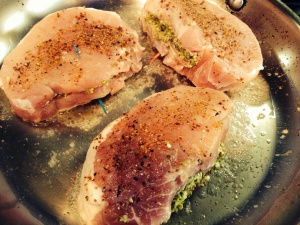 Brown the pork chops for 5 minutes, turning once.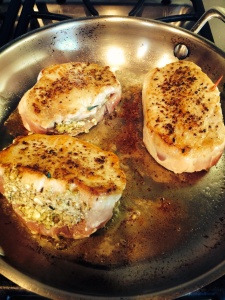 Place pork chops in oven safe dish. Pour juices from the skillet over the pork chops. Cook for 30 minutes, or until no longer pink. Serve hot!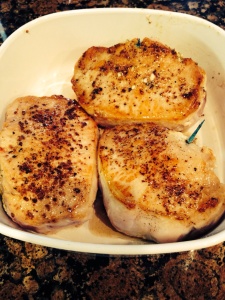 Meal Ideas:
I served this with brown rice and steamed broccoli. Healthy AND delicious!