I love soup, especially when the temperature dips into the 20s and teens like it is this week! I avoid creamy fattening soups because, well….I just don't like to eat them. I found a recipe for a low fat potato soup in Cooking Light (January 2013) that I thought would be a big hit with my family. It takes some time to prepare, but well worth it. Part of the secret to making this healthier than traditional baked potato soup is the pureed roasted cauliflower. My son tried it and LOVED it. Of course, he had no idea that he was eating cauliflower, or a low fat soup. I just told him that if he liked baked potatoes he would like the soup!! Score one for Mom!!
Level of Difficulty: Moderate
Time Required: Prep Time – 35 min; Cook Time – 1 hour
Ingredients:
1 1/2 tablespoons extra-virgin olive oil, divided
1 cup chopped onion
1 teaspoon chopped fresh thyme
5 garlic cloves, chopped
1 pound cubed peeled baking potato (about 2)
1 pound cubed Yukon gold potato (about 4)
5 cups unsalted chicken stock (I actually used salted chicken broth)
1 teaspoon kosher salt, divided
1 bay leaf
1 pound cauliflower, cut into florets (about 1/2 head)
3/4 teaspoon freshly ground black pepper, divided
Cooking spray
1 1/2 cups 2% reduced-fat milk (to cut the fat more, I used 1% milk)
3/4 cup chopped green onions, divided
1/2 cup fat-free fromage blanc or sour cream (I used light sour cream)
2 ounces grated sharp cheddar cheese (about 1/2 cup)
4 slices center-cut bacon, cooked and crumbled
Special Equipment and Other Items Needed:
Preparing Low Fat Potato Soup:
1. Preheat oven to 450°.
2. Heat a large Dutch oven over medium-high heat. Add 1 1/2 teaspoons oil to pan; swirl to coat. Add onion, thyme, and garlic; sauté 5 minutes or until tender, stirring occasionally. Add potatoes, stock, 1/2 teaspoon salt, and bay leaf; bring to a boil. Cover, reduce heat, and simmer 35 minutes or until potatoes are very tender, stirring occasionally. Remove from heat; discard bay leaf.
3. While potatoes simmer, combine remaining 1 tablespoon oil, cauliflower, 1/4 teaspoon salt, and 1/4 teaspoon pepper on a jelly-roll pan coated with cooking spray; toss to coat. Roast at 450° for 30 minutes or until browned, turning once.
4. Place cauliflower mixture and milk in a blender. Remove center piece of blender lid (to allow steam to escape); secure blender lid on blender. Place a clean towel over opening (to avoid splatters). Blend until smooth. Pour cauliflower mixture into a large bowl. Add half of potato mixture to blender; pulse 5 to 6 times or until coarsely chopped. Pour into bowl with cauliflower mixture. Repeat with remaining potato mixture. Place cauliflower-potato mixture in Dutch oven over medium heat. Stir in remaining 1/4 teaspoon salt, remaining 1/2 teaspoon pepper, 1/2 cup green onions, and fromage blanc; stir until fromage blanc melts. Ladle soup into 8 bowls. Top evenly with remaining green onions, cheese, and bacon.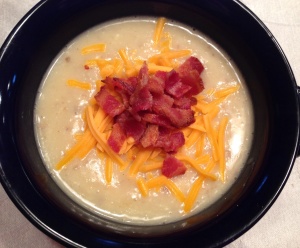 Variations:
You can put any topping you want on the soup. Just think of what you would normally put on top of a baked potato. Clearly if want to cut the fat even more, don't use bacon and use a minimal amount of cheese.
Got Leftovers?:
This soup heats up very well. It's a good thing because this recipe makes a lot of soup!