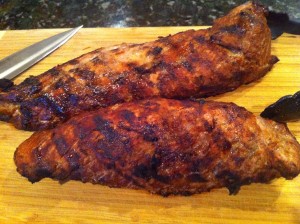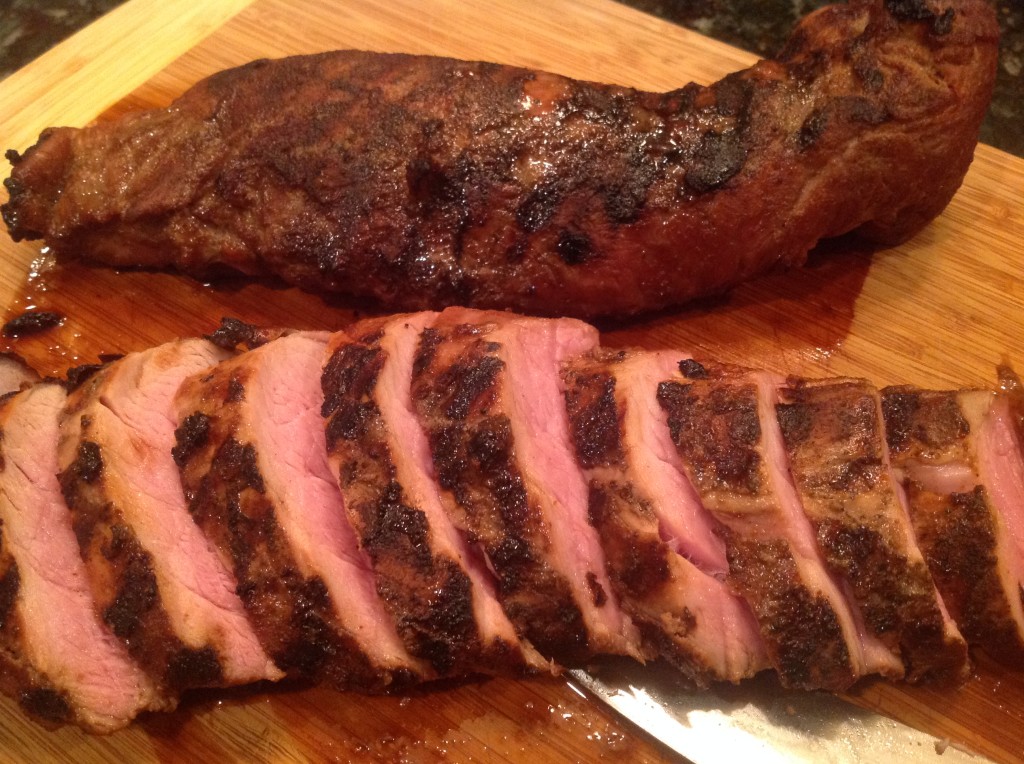 When I was dating Mark, I made him this pork tenderloin as the first meal I cooked for him – grilled pork tenderloin. He says it is still the most memorable meal he has ever eaten. I remember wanting to impress him and calling my neighbor/mom of an old friend and asking for ideas for grilled pork tenderloin. She told me about dale's seasoning (TM), but I did not have that at home. She read me some of the key ingredients off the bottle and I put this together with what I had at my house. I really never tweaked it other than sometimes substituting powdered ginger for fresh ginger or leaving out the green onions. It is still my favorite go to, quick and easy grilled pork tenderloin recipe.
Level of Difficulty: Moderate
Time Required: Prep Time – 10min; Marinate – 30 mins to overnight; Cook Time – 20 mins
Ingredients:
2 pork tenderloins
1 T ginger powder or 2 T fresh ginger minced
1 T garlic powder or 2 T fresh garlic minced
¼ cu Worcestershire
¼ cu Soy Sauce
2 green onions, diced
Special Equipment and Other Items Needed:
Storage Bag with zipper top (optional – can just marinate in a baking dish)
Instant Read Thermometer

How to make grilled pork tenderloin marinade: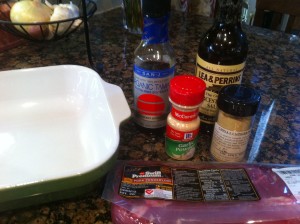 Add all ingredients except the pork into the zipper bag. Add the tenderloins, seal the bag, and massage the marinade all over the pork. Place in refrigerator overnight for most flavorful results but you can do this for just 30 minutes too. If 30 minutes or less, then just leave the pork out so it comes to room temperature before you grill it.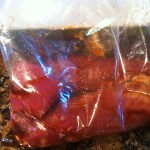 30 minutes before ready to place on the grill, start your grill and take the meat out of the refrigerator.
If using a gas grill – start the grill on High and turn the burners down to medium just before placing the tenderloins on. If using a charcoal grill, after your coals are ready, you'll want to spread your coals around and cook the meat (on a rack, felt like I had to make sure) over the coals. This is not an 'indirect heat' recipe.
Set the tenderloins on the grill about an inch apart to keep the air circulating. Close the grill and let cook undisturbed about 8 minutes. Turn the tenderloins and close the lid for about another 8 minutes.
Check your tenderloins by pressing on them with your tongs (Don't stab the meat you are cooking with a fork, please!!). How much does the meat give when you press? If a lot, then they are not done. You want the meat firm but with about as much give as when you press on the meaty part of the bottom of your hand under your thumb.
You can also use an instant read thermometer but please don't test it every 2 minutes – you'll make all the juice run out of the meat. Wait until you think it is close and just stick it once. If you grill enough times, you'll get the feel for it, I promise. You want the temperature to be about 140 degrees. Your instant read thermometer might say 160 or 170 degrees for pork to be done, but pork tenderloin does not need to reach this temperature. It will be overcooked and ruin any reason you bought this more expensive cut of meat.
Take the meat off the grill and let rest for about 10 minutes. This is critical if you want succulent, melt in your mouth, juicy meat. If you prefer shoe leather, then go ahead and cut it.
Slice and serve. Depending on your mix of guests (male/female) and what else you are serving, I generally get 4 servings off of one tenderloin. If you just have a bunch of men eating or no starchy side item, count on less!
Important Tips:
Marinate overnight if you can.
Let the meat rest when it is done.
Don't overcook, pork tenderloin that is a bit pink in the middle is PERFECT!
Menu Ideas
I love to serve this with Asparagus with Dijon Vinaigrette and Roasted Red Potatoes.
Got Leftovers?
Slice thin and reheat with some BBQ sauce
Chop up in small pieces and add to a quesadilla
Cut into small strips and top a fresh salad
If you make this for your next date night, let us know! We'd love to hear how it went.