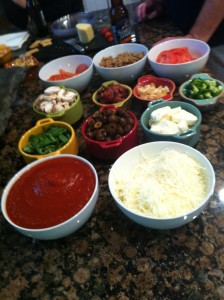 About a year ago, I was visiting my sister in Baton Rouge. She made grilled pizzas for us one night which were a huge hit for adults and kids alike.  She made the dough herself, of course, but Melissa and I will tell you that there's no reason why you shouldn't just buy the dough from Publix. It's a little over $2.00 a bag and you can make 3 pizzas out of each one! Here's what you do….
1) Take the dough out of the refrigerator about an hour or so before you start rolling it out.
2) Once the hour is up, preheat the grill to a low heat. Cut the dough into thirds.
3) Roll out onto a lightly floured surface until the dough is about a quarter inch thick.
4) Lightly brush olive oil on each side. I found that after I do this, it's easiest to put the dough on a baking sheet to take out to the grill.
5) Place dough on grill grate ( low heat) for about 5 minutes per side. You'll know it's ready to turn when you see big bubbles form.
6) Repeat until all dough has been cooked.
7) Have everyone start making their own pizzas! Recently, I had the following on my toppings bar: Mariana, pesto, shredded mozzarella, fresh mozzarella, fresh basil, black olives, mushrooms, roasted garlic, sausage crumbles, pepperoni, sliced tomatoes, diced jalepenos and candied bacon!!
8) Place the pizzas back on the grill until the cheese is melted, about 5-7 minutes. Slice, serve, and enjoy!!
Yes…it really is that easy!!!