So Tara and I love the spinach artichoke dip from Houston's. I mean, who doesn't, right? We had made the standard spinach and artichoke dip that lots of people have for many years but decided to try and make it more "Houston's" like. With trial and error, here's what we came up with. It's not exact, but pretty darn close!!!

Level of Difficulty: Easy
Time Required: Prep Time – 20min; Cook Time – 45 minutes
Ingredients:
8 oz. sour cream
8 oz. mayo
8 oz. grated parmesan cheese
1 package of frozen chopped spinach, defrosted
2 cans of artichoke hearts, chopped
6-8 oz. shredded monterey jack cheese
6 garlic cloves, minced
Tortilla chips
Preparation of Spinach Artichoke Dip:
Preheat oven to 325. Mix all ingredients together in mixing bowl. Pour into oven safe dish and bake for 45 minutes or until the outside starts to bubble. Let sit for five minutes before serving. Serve with tortilla chips.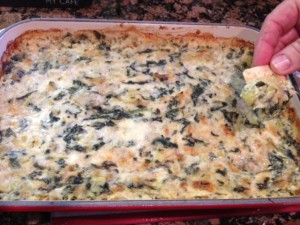 Important Tips:
Make sure you squeeze all of the water out of the spinach before putting it into the bowl to mix with the other ingredients. If you don't, you will have one liquified mess!
Variations:
If you want your artichokes smaller, you can always put them in a food processor!