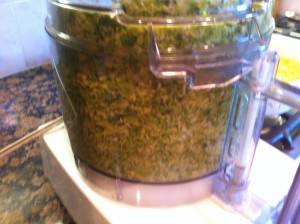 In our recipe posts, we have a section called "special equipment" where there is a tool or appliance needed in order to make a recipe that is not something everyone already has. However, we never really told you why you need that item or why we recommend that specific model. We thought we would start a series on a "Featured Product" about once a month to go into detail about some of our favorite "must have" items so you have a better understanding as to why we are recommending them.
This month, our Featured Product is a Food Processor.
Uses for a Food Processor
There are many other tools that can do what a food processor can do, but there is not another tool that can do ALL what a food processor can do, especially in something so compact and so inexpensive and works so quickly.
A food processor is essential to finely chopping or shredding food and it can save you hours of prep time. When you have a block of cheese you need to shred, you essentially have two choices: 1) a hand held cheese grater or 2) a food processor. If you have ever shredded more than a cup of cheese by hand, my guess is that you now have a food processor!
But food processors do so much more than shred cheese. In fact, they do so much more than shred anything! Generally, a food processor comes with multiple blades for: Shredding, Slicing, Chopping, Mixing, and Making Dough. All of these tasks for some recipes could take you a long time to complete or multiple gadgets. A food processor does it with a quick push of a button.
Best Food Processor
CUISINART !! There are several manufacturers of food processors out there, but our favorite is Cuisinart. They were one of the first ones to market with this appliance and their name is often used interchangeably for a food processor even though they now make many other appliances too.
Here are some of our favorite features of a Cuisinart food processor:
Comes with multiple blade attachments for chopping, mixing, making dough,  shredding and slicing (these come with it – not sold separately)
Great warranty on the product but we doubt you'll ever need it. These things are like the Energizer bunny of appliances. Melissa's mom used hers constantly for over 25 years before she finally got a new one.
BPA free work bowls
Compact size stores easily
Comes in many sizes and colors. We find the 7 cup DLC-10S to be more than sufficient for our needs but if you like bigger – go bigger!
Food Processor Recipes
Below are some of our favorite recipes that require the use of a food processor:
Delicious Homemade Chimichurri Sauce
Delicious and Creamy Macaroni and Cheese
Shredded Brussels Sprouts with Prosciutto
Buy a Food Processor
If you don't already own a food processor, check out this one from Amazon.com which is  a really great deal. Buy one today if you don't have one already or don't like the one you do have. If you purchase through the link below, you support McNack's too!