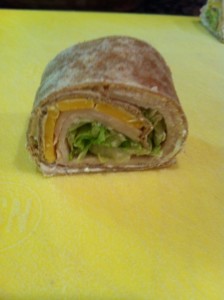 I was making these turkey roll ups for my kids' lunch the other day (yes…I send my kids off to school with gourmet looking sandwiches that take no more time to prepare than your standard peanut butter and jelly)!! Anyway, as I was making them, my daughter said I should put the roll ups on McNack's. I really had never thought of it before since it's not your typical "dinner" recipe that we have been posting. However, after thinking about, I decided, "Why not?" You can make these roll ups for lunch or for a soup and sandwich kind of dinner. You can easily change up the ingredients to fit your families tastes!
Level of Difficulty: Super Easy
Time Required: Prep Time – 5 minutes
Ingredients:
Tortilla Wrap (my favorite is Toufayan Wholesome Wheat)
Alouette Light Garlic and Herb Cheese Spread
1 -2 pieces of sliced cheddar cheese
2-4 pieces of sliced turkey
Shredded lettuce
Sliced tomatoes
Preparation of Turkey Roll Ups:
Spread the Alouette over the entire tortilla with a knife or spreader. Put the cheese down on one side of tortilla, followed by the turkey.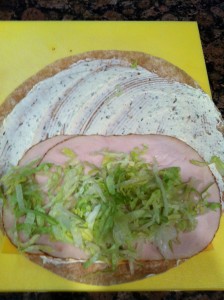 Remember that you have to roll the tortilla up so you don't want it to be too thick. If you have thicker cut meat, put down two slices, otherwise you can use 3 or 4 slices. Next, use tomatoes and top with shredded lettuce. Roll up tightly from ingredient side first. Slice into 1 inch pieces with a serrated knife. You should be able to get about 4-5 pieces out of each wrap.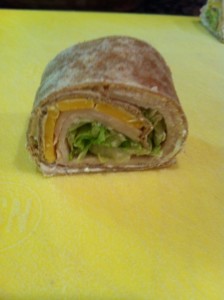 Important Tips:
Don't overstuff, otherwise your wrap will fall apart.
Variations:
The possibilities are endless when it comes to making roll ups. You can simply change up the meat and cheese to roast beef and swiss, or you can change the flavor of the tortilla. Leave out sliced cheese all together or add some bacon to make a club! Use whatever ingredients are your favorites, there is no right or wrong! I've made a veggie wrap with hummus as the spread, spinach, tomatoes, artichoke hearts and black olives. Yes…it was a little full, but it was DELICIOUS!!!
I've done a version of these with Alouette, pickled asparagus and diced red bell peppers, sliced them a bit thinner and served as a delicious appetizer. – Melissa