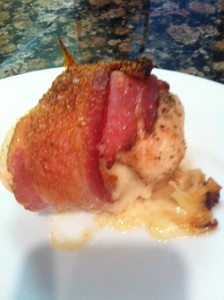 My son asked me last night what I was making for dinner. I told him I was going to grill chicken. He was not thrilled with that answer and commented about how we always seem to have chicken. Being "the mom", I told him it's because chicken is the healthiest meat and we should eat more of that than other meats. I was in a good mood (spring break is almost here) and wasn't too set on how I was preparing chicken, so I asked him if he preferred that I stuff the chicken with cheese and wrap it in bacon. Of course, he said YES!!! (I am well aware of the fact that my healthy piece of grilled chicken was now turning into a non-healthy piece of chicken but to be honest, I didn't really care. I wanted to experiment)! Anyway, I grabbed 4 pieces of applewood smoked bacon (from Costco) and some white cheddar cheese that I had and here's what I did…..
Level of Difficulty: Easy
Time Required: Prep Time – 5 min; Cook Time – 30 min
Ingredients:
4 breasts of chicken (thin cut or pounded)
4 slices of bacon
Cheese
Garlic salt and pepper to taste
Special Equipment and Other Items Needed:
Toothpicks
Preparing Bacon Wrapped Cheese Stuffed Chicken:
Preheat the oven to 400 degrees. After you have your chicken pounded out, season the meat with garlic salt and pepper. Put cheese on one side and roll up. Place the end of a strip of bacon over the seam and roll the bacon. Secure with a toothpick and place in a baking pan.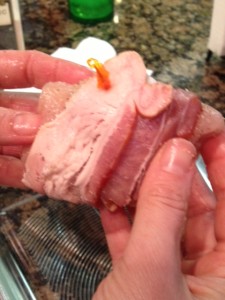 If you can't get all of the cheese in when you roll, you can stuff it in the sides after you have rolled it.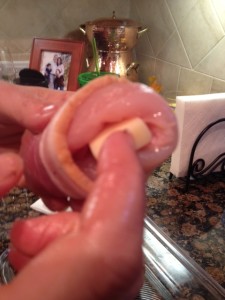 Bake for about 30 minutes. Take the toothpick out and enjoy!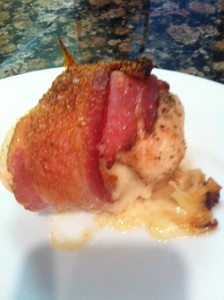 Important Tips:
1) The next time I make this, I will mix in some panko breadcrumbs with the cheese so the cheese doesn't ooze out as much. Live and learn!!
2) If you don't pound the chicken out (or use thin sliced breasts) and try to roll up a stuffed fat breast, please make sure you let us know how that worked for you!!
Variations:
The possibilities are endless. Change up the cheese, add different spices to the outside, add different ingredients…whatever you want! You really can't go wrong.