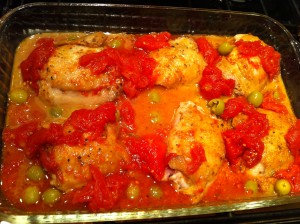 I've made something like this a million times and I don't think I ever do it the same way twice. Regardless, it is super easy and very flavorful. It seems like something you'd find in Tuscany, hence my name of Tuscan Chicken.
Level of Difficulty: Easy
Time Required: Prep Time – 10min; Cook Time – depends on the cut of chicken (30 min – 1 hour)
Ingredients:
8 chicken thighs (bone in and skin on)
1/4 cup vegetable oil
Salt
Pepper
1 large can of whole tomatoes
1 cup of white wine
3 cloves of garlic, sliced
Olives of your choice (green, black, kalamata)
Juice of one lemon
Fresh herbs of your choice (thyme, basil, oregano)
Parsley for garnish
Optional ingredients:
1 onion, sliced
Feta cheese
Preparation:
Pre-heat the oven to 350 degrees. Salt and pepper the chicken thighs. Heat the oil in a heavy skillet over med-high heat until really hot. Add the chicken (that will fit, may need to do in batches) skin side down and brown on both sides (about 4-5 minutes each side). Remove chicken and place in a baking dish. Repeat for remaining chicken.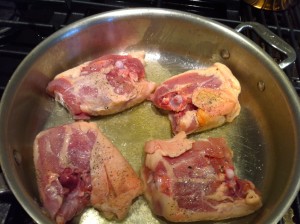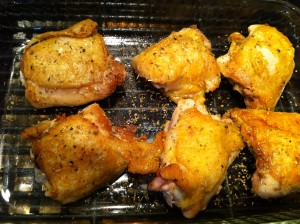 When all chicken is browned, deglaze the skillet with the white wine. Don't freak out with the term, deglaze, it really is no big deal. Just pour the wine in the skillet and use a wooden spoon to scrape up the brown bits on the bottom.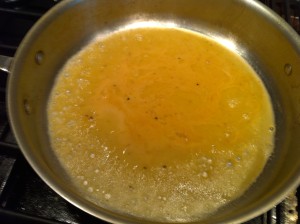 Let the wine simmer for a minute and then add the wine to the baking dish with the chicken. Take the whole tomatoes from the can (use quality tomatoes like San Marzano) and break them up with your fingers over the top of the chicken. Add the sliced garlic to the baking dish, the fresh herbs of your choice and the olives.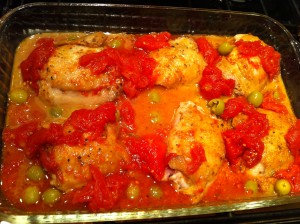 Bake until chicken is done. For bone in chicken thighs, it takes about 45 minutes. If you choose boneless or chicken breasts, then the time will be faster.
Important Tips:
I almost always use boneless, skinless chicken breasts because they are the 'healthiest'. However, anytime you do bone-in chicken you will get two great things: (1) a more forgiving piece of meat as the bones help keep the moisture in, (2) more flavor.
Variations:
Use a variation of the optional ingredients above to change this up.
Meal Ideas:
Shown here with sautéed broccolini and polenta with gruyere.