I'm a bit reluctant to give this one away….well, actually, saying 'a bit reluctant' is a bit of a misnomer. I'm actually ridiculously and freakishly reluctant. In fact, I have no real desire to share this secret weapon, but I'm trying to be a more giving person and learn to share more. I've never been very good at sharing 🙁
I adapted this from the Williams-Sonoma recipe in their Kitchen Library book series on Grilling. Adapt this for yourself too. Everything can be changed.
Level of Difficulty: Moderate
Time Required: Prep Time – 20min; Cook Time – 1 hour
Ingredients:
3T vegetable oil
2 onions (I use Vidalia or sweet onions), chopped finely
8 cloves of garlic, minced
3 cups ketchup
1 1/2 cup apple cider vinegar
1/2 cup Worcestershire
2/3 cup sugar
3T chili powder
1T cayenne pepper
Preparation:
Heat the oil and add onions and garlic. Saute until tender about 8 minutes.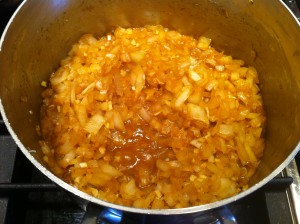 Add all remaining ingredients and let simmer for about an hour. I add the sugar first and stir until it is melted and then add the other ingredients.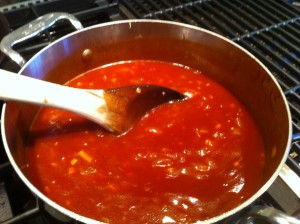 Variations:
Changing chili powder type and quantity as well as cayenne pepper quantity will alter the heat. Add more or less vinegar for tanginess. Add more or less sugar for sweetness. Make it yours!!
Got Leftovers?:
This sauce freezes really well so you can always have some on hand when you need it.
Wow! I will take this and run with it. I just hope that Melissa deciding to share a super secret recipe doesn't mean I have to!!! – Denise