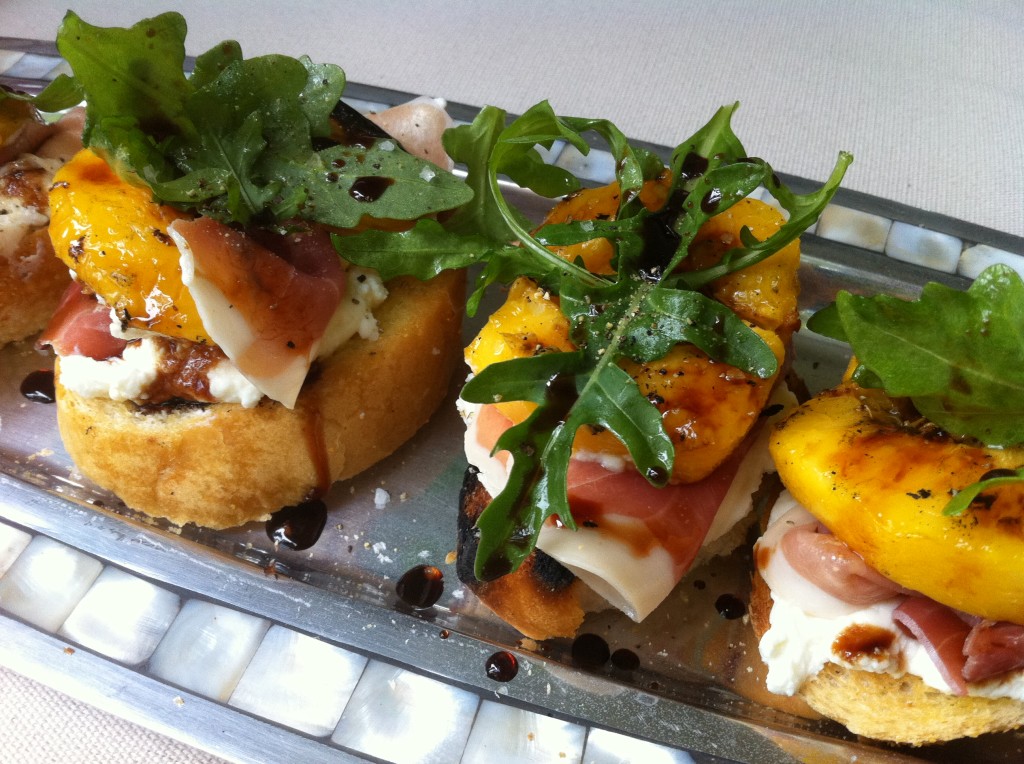 I'm a big fan of Williams-Sonoma. They have great things for cooks of all levels. So, although I don't like being on many mail lists, I do receive their catalogue. It is great because they market their products with many seasonal recipes. I saw something very similar to this grilled appetizer that I changed up more for my taste. Tried it out on a great guinea pig, my sister-in-law. She loved it too.
Level of Difficulty: Easy – Moderate Time Required: Prep and Cook Time – 20-30 minutes
Ingredients:
2 peaches
1/2 loaf of French bread
8T Ricotta cheese (I used part-skim)
2 handfuls of arugula
2T extra virgin olive oil
Juice of 1 lemon
4 slices of prosciutto
Coarse sea salt
Freshly cracked black pepper
Garlic powder
Grilled Appetizer Preparation – Peach, Prosciutto and Ricotta Crostini:
First – it is important to decide how you are serving this. If it will be in a seated setting with knife and fork or as an appetizer, standing and eating with your fingers. This will dictate the thickness and or quantities for everything listed below. I made this for a knife and fork this time but think it would also be great as finger food. If I did for finger food, I'd essentially only use 1/4 of a peach, a thin slice of bread for the crostini, maybe 1/2 the ricotta and place the arugula under the peach.
Preheat grill to medium-high heat.
Crostini:
Slice bread to desired thickness.
Brush with olive oil and sprinkle with a bit of garlic powder
Set aside until ready to grill
Peaches:
Cut in half, remove pit and peel skin. This is the most fun way to learn to do this quickly and easily. Check out this video.
If making as finger food, slice the half in half again so that it is thin (opposite direction of a typical quartered piece of fruit)
Brush a bit of olive oil on one side.
Set aside until ready to grill
Ricotta:
Place the ricotta in a small bowl. Add sea salt, fresh cracked black pepper to taste. If desired, add a bit of parsley or even chop a bit of the arugula up and mix all together.
Arugula:
Toss the arugula in lemon juice, olive oil and sea salt
Assembly:
Grill the bread and peaches.
When done, spread the ricotta mixture on the bread.
Top with 1/2-1 slice of prosciutto.
Add peaches.
Add arugula.
Drizzle with balsamic reduction and sprinkle with a bit more sea salt.
Variations:
This could even be a meal. I'd just place the larger version of the crostini's on a bed of arugula too to make a little salad.