If someone from another country were to ask you what is the typical American cuisine, your answer would most definitely vary based on what area of the country you live. It's obvious to Americans that the food in the Northeast, South, Southwest, Midwest, Northwest, Gulf Coast, etc are ALL very different from one another. The cuisines in these locales vary based on the temperature, the topography, the proximity to the coast, the local produce grown in the region, the influence of the area's settlers, etc. Nothing is the same and we all seem to know this about our own country.
Then, why is it when we have food from another country one time, and next thing you know, we assume ALL their food tastes that one way. Really?! Especially with a country like India! We are not talking about a country the size of Liechtenstein, people!
India is the 7th largest country in the World and is the 2nd most populous. It is bordered by the Arabian Sea to the west and the Bay of Bengal to the east. It essentially sits between Asia and the Middle East. It has mountains, dessert, coasts and rainforests. It was influenced by trade from the Far East and from Europe. There is very little that is the same in India from one region to the next…just like the U.S.
It was this intrigue that sparked Denise's and my curiosity to attend a cooking demonstration with Asha Gomez. She is the chef/owner of Cardamom Hill restaurant in Atlanta and a cool kitchen location called The Third Space used by local chefs to demonstrate many different aspects of cooking. Don't let her last name fool you…she is first generation Indian. However, she is from the Southwest of India. A region that was greatly influenced by Portuguese missionaries in the 1500's. When they came, they not only brought Christianity to the region, they brought chili powder, other spices, cooking methods and their last names. Now, don't get me wrong, the last names came from their baptisms. When Indian's from this region converted to Christianity, the missionaries gave them new last names to remove them from the Caste system their names kept them in for generations.
For this cooking demonstration, we started at Sweet Auburn Curb Market in downtown Atlanta. A variation of vendors selling local meats, cheeses, vegetables and so much more. It was both of our first times to this particular market. We'll both definitely be back. If you are local to Atlanta, check it out sometime. If not, check out whatever local markets your town has. I'm sure you'll find a gem. It was there that we bought all our fruit and vegetables Asha was planning to cook for our lunch.
We went to the cooking space Asha has called The Third Space and she started cooking. The smells started to permeate the air. My stomach started to grumble. It all smelled so delicious. Then we ate and nothing was like I had ever eaten before, and it was not at all like the stereotypical Indian food we think we know all folks from India eat 😉
It was light, vibrant, fruity, and aromatically spicy. Spices that toyed with your nose and your pallet but not spicy that made you start sweating and wishing for a larger glass of water. Each dish had a different mix of spices that were the star of the meal but none competed with each other.
I ran out to the store the next day to recreate the meal for my family. I came home with a lot of new spices that I had never cooked with before. I did not have time to go to a local Indian food market so I had to do with what my local grocer had….for now. Here is a flare of some of the new ingredients I brought home: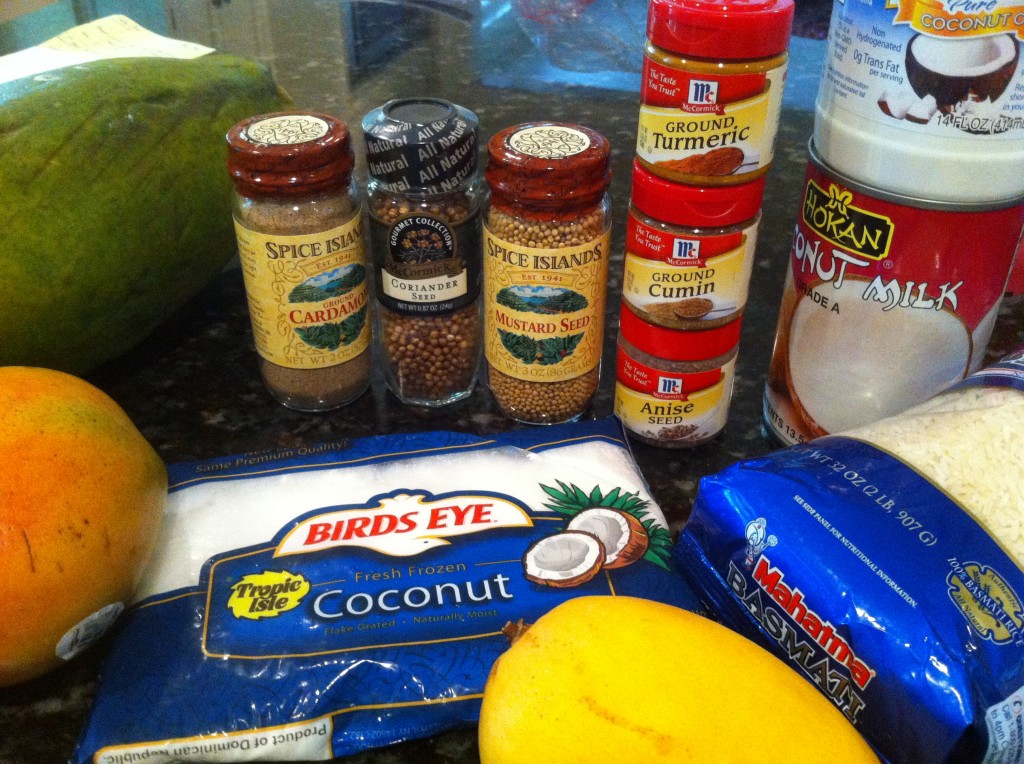 Asha spoke about how in all cooking, especially Indian cuisine, there are generally 7 spices that you use all the time (outside of salt and pepper). These spices change by region but there are generally a good 7 that are your go to spices. She showed us her Spice Tin that people use all the time in India. When Denise and I saw that, we both looked at each other at the same time and said, "gotta get one of those!" We found them on Amazon. Definitely going to be a new addition to our kitchens.
Here is the menu Asha cooked for us. When I made it, I had to vary a couple of small things to make do with the spices and fresh vegetables available at my local grocer.
Salad: Fresh watermelon and papaya in a honey, citrus, thyme and coriander dressing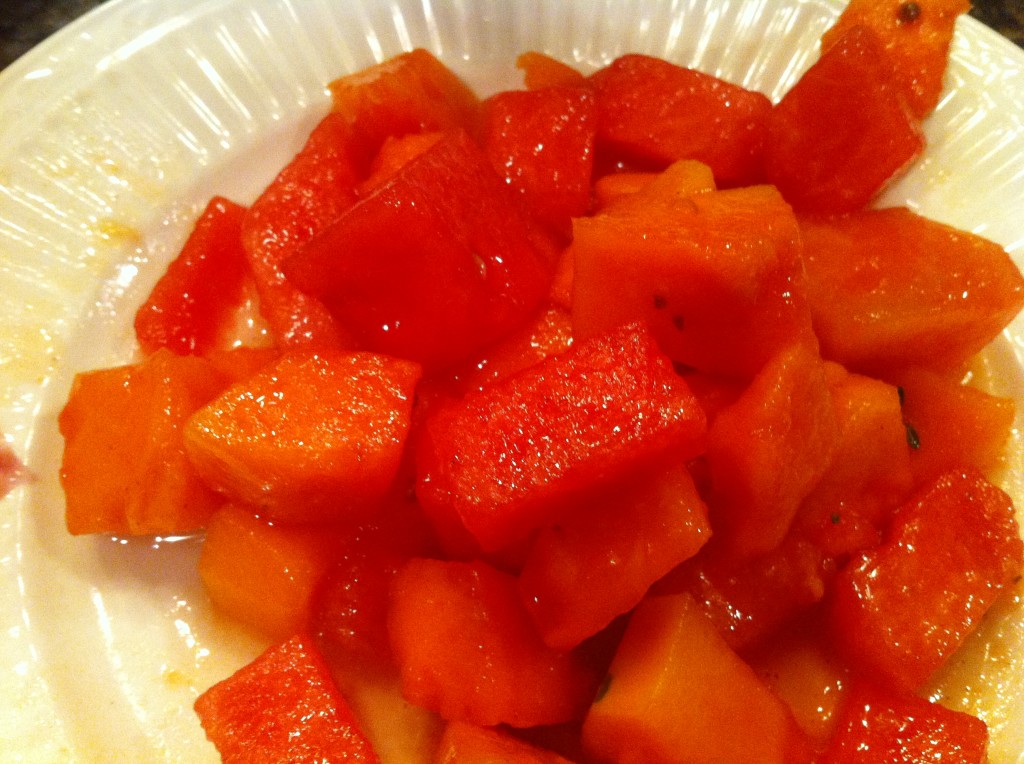 Meal: Roasted game hen with coriander based spice rub, cardamom spiced rice with sautéed onions and fresh garden pea medley, sautéed kale with fresh coconut, and a mango and tomato chutney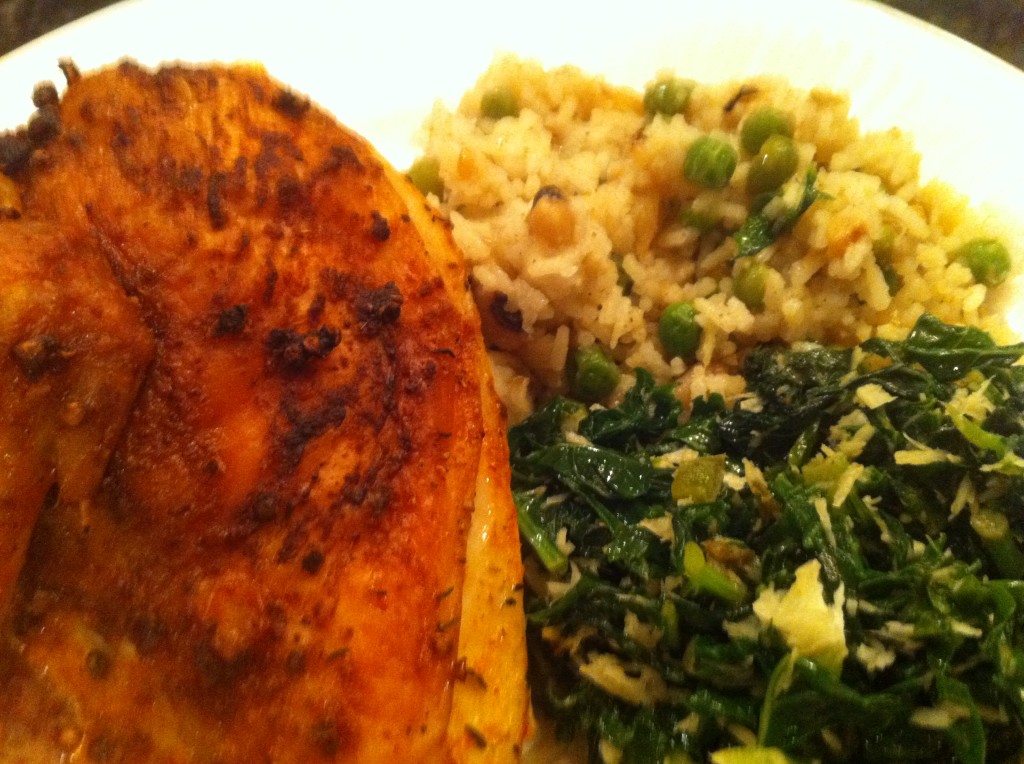 Dessert: Coconut rice with mangoes and honey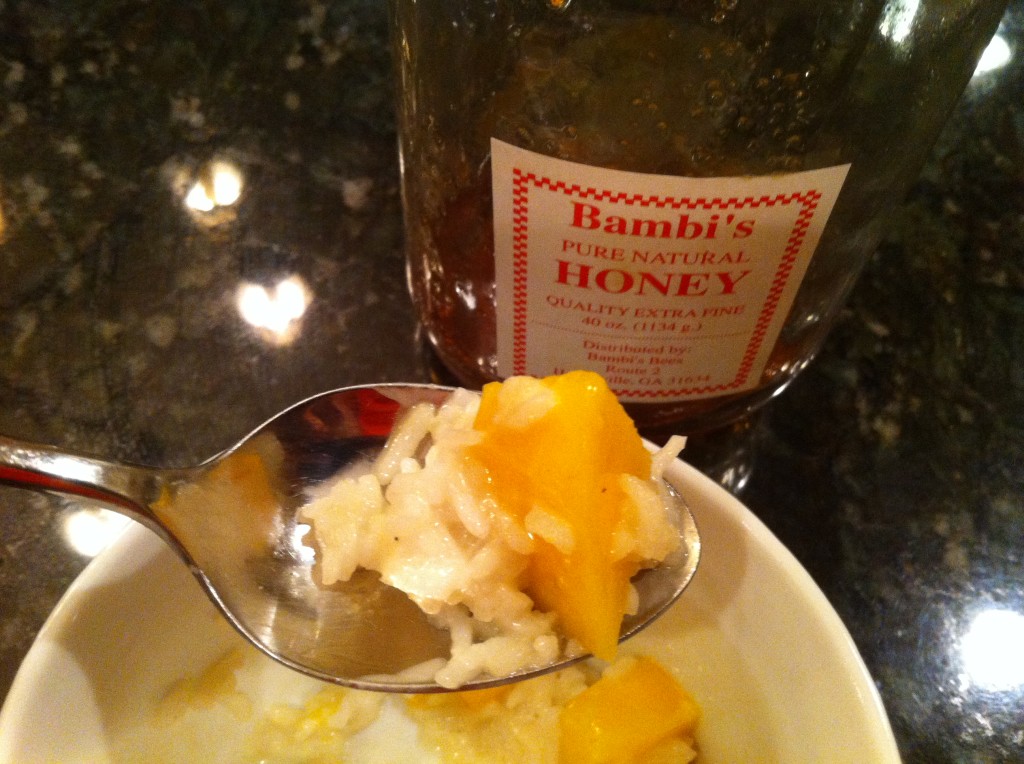 We will post 'recipes' for all of the above but please note that there are no real recipes. Nothing was measured. But don't worry. We'll give you our thoughts on general measurements to help you out.
When I made all of this at home, the smell in my house made me smile every time I walked back into the kitchen all night long! So good. My 10 year old is begging me to make that meal again!!!
I made a variation of the rice recipe for my family and they loved it. Asha is a believer in using what you already have in your kitchen and making recipes your own! BIG fan!  – Denise