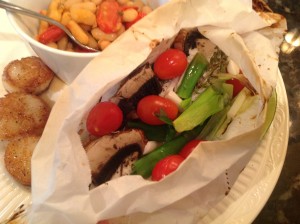 I love fish! In fact, I love all seafood! But one thing is absolutely required for me when I'm eating seafood and that is – IT MUST BE FRESH. Seafood, especially fish, must be fresh in order to truly be fantastic. I am lucky to live in a city like Atlanta where, even though we are not on the coast, we can still find and buy truly fresh seafood.
When cooking fresh seafood, it is fun to prepare it in such a way that the freshness is what is highlighted on your plate. Cooking fish in paper (or as the French say 'en papillote' – pronounced 'on pap-e-ote') is one of those preparations where the spotlight shines down on simple freshness.
Although it sounds really 'fancy schmancy', it is actually very simple to make.
Level of Difficulty: Moderate
Time Required: Prep Time – 5-10min; Cook Time – 8-12 minutes
Servings: 2
Ingredients:
2 6oz fish filets (in this recipe I used grouper)
2-4 sprigs of thyme
salt and pepper
Drizzle of olive oil
4T white wine
Vegetables of your choice cut small enough to cook to your liking in the short cook time. In this recipe, I used:
* Grape tomatoes
* Portabella Mushrooms
* Green Onions
Special Equipment and Other Items Needed:
Parchment Paper
How to prepare fish in paper:
Preheat oven to 450 degrees. Tear off two large sheets of parchment paper. Set them on your work surface. Place a piece of fish in the center of each piece of paper. Salt and pepper the fish. Place a sprig of thyme on each piece of fish.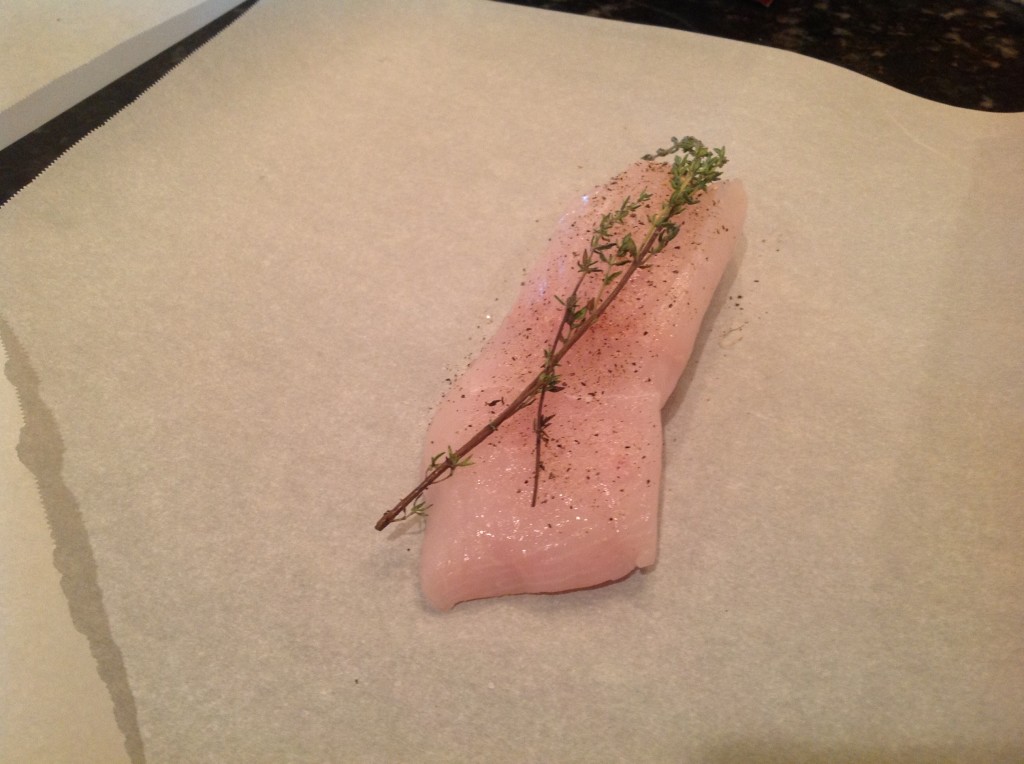 Add the vegetables you want on the fish. The fish will be very white when cooked so you'll want vegetables that will add nice color to your dish. I added what I had in the fridge which was grape tomatoes, green onions and portabella mushrooms. This will only take 8-12 minutes to cook in the oven so cut the vegetables to the size you want to match the cooking time. If you want your vegetables really soft, cut them small. If you want them more raw than cooked, leave in larger sizes. It is your choice and preference. Sprinkle a bit more salt on the vegetables. Drizzle the fish with a bit of olive oil.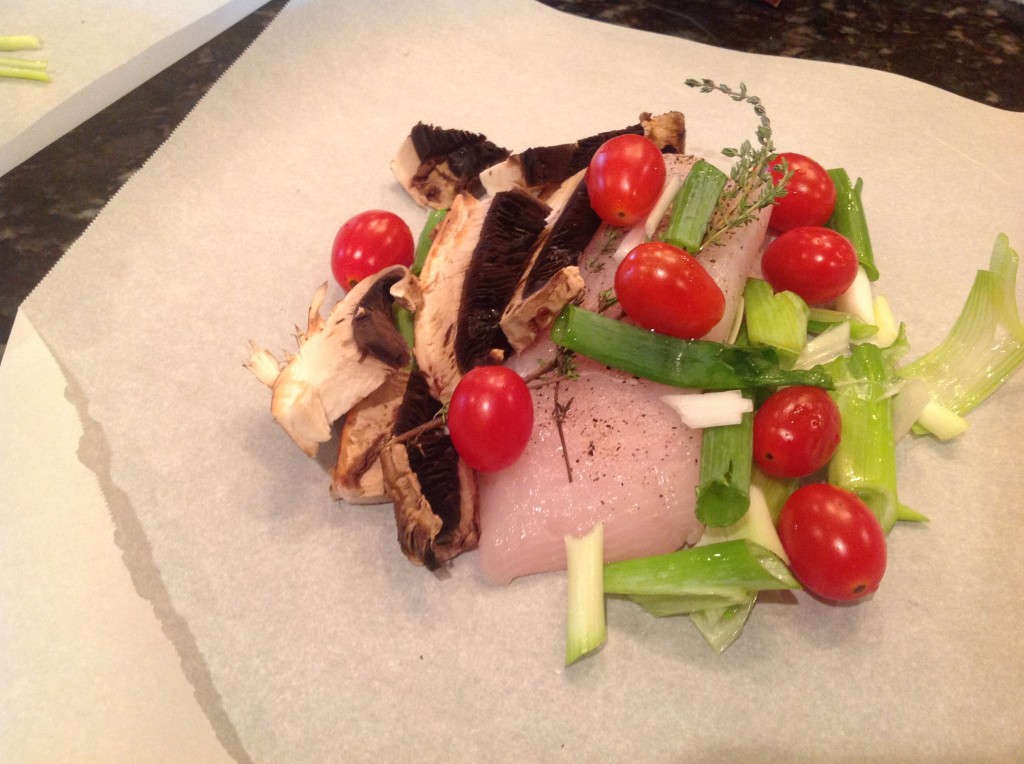 Now it's time to wrap up your little bundles. To do this just pull up 2 opposite sides and fold them together at the top. Leave a bit of space above your fish and vegetables. Pull up the other two opposite sides and get ready to seal the ends with a fold, but before you do, pour a splash of white wine in the packet.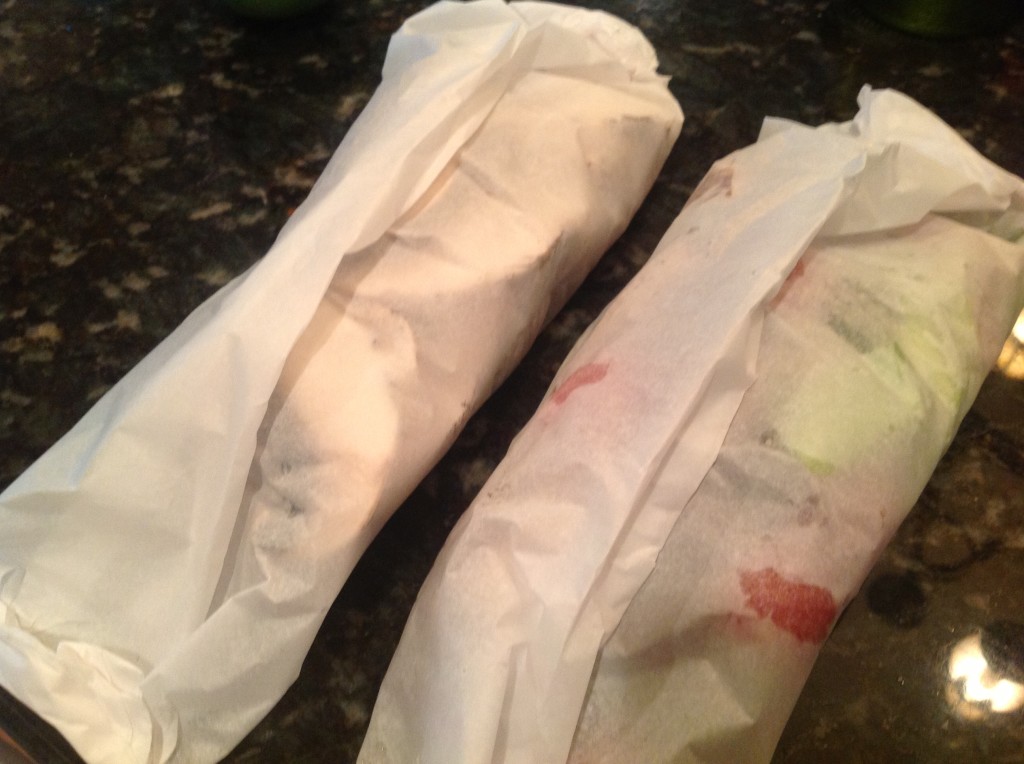 Place the fish in paper on a rimmed baking sheet in a 450 degree oven and cook for 8-12 minutes depending on the thickness of your piece of fish. This is really quick but fish is so delicate, that is all it will take. Trust me, it will be cooked and moist and delicious.
Remove from the oven, place the fish on your plate and open the paper to reveal your bundle of goodness.
Shown here with some braised white beans with thyme and tomato and some seared scallops.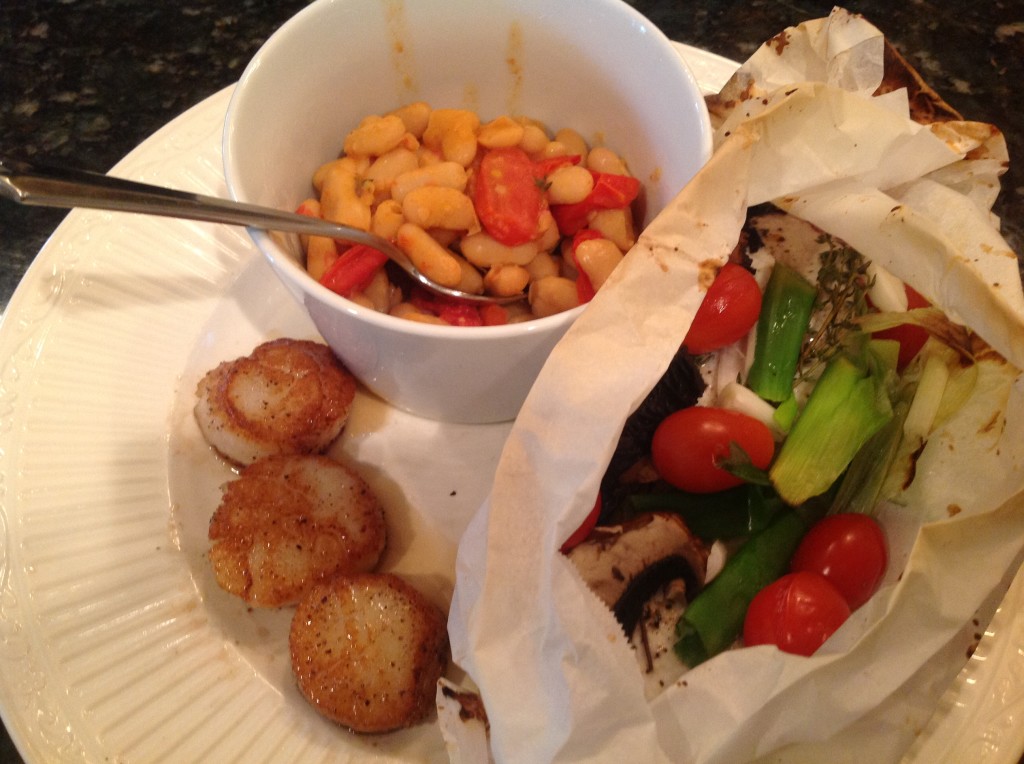 Important Tips:
Don't overcook!
Place on a rimmed backing sheet so any juices/wine don't run all over the place.
Variations:
Use any veggies you want. You can even add some fruits too! Experiment. It will be great! Just remember color!