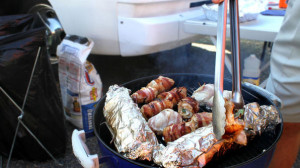 It's Tailgating Time!!! As you probably know by now, Melissa and I love football season. What I mean by that is we love every aspect of this time of year. The weather is perfect, the holidays are right around the corner and we get to watch football every weekend. If you have the opportunity to head to a game, you'll want to make sure you do your tailgating up right and bring delicious food your friends can't stop talking about. Make sure you have the right containers, enough ice, and all of the paper products that you will need…and don't forget the trash bags!!! Here are some of our favorite Tailgating Foods….
Pasta Salad with Champagne Vinaigrette
Chips and Salsa
Tomato Cucumber and Red Onion Salad
Bacon Wrapped Jalapeno poppers
Bring some fresh fruit and don't forget the dessert! With everything else you have to remember, treat yourself with some store bought desserts!!