I am cooking for a crowd at my church again this Sunday for our Anniversary luncheon. We are 61 years old and going strong! This is always a bit intimidating as it is not just the smaller group of retirees I cook for once a month. This is the entire congregation, hungry after a sermon and ready to eat! Yikes!!
Menu for 80 people
Meatloaf (my mom cooked this recipe for me when I was at her house last time. It's from Tyler Florence and really good, but I'll probably leave off the bacon).
Stuffed Zucchini for our vegetarians in the crowd (I'll add this recipe later but it is stuffed with tomatoes, black beans and lentils)
A veggie (not sure what until I get to the store)–>ended up doing a stuffed zucchini that was really good!
Salad (with tomatoes and cucumbers)
Dessert (this will be store bought because they'll do something better for 80 plus people than I can)
Garlic Bread
The Plan
I'll stop by the church today and borrow some institutional size pans so I can get some items prepared at home today and Saturday. The make ahead list includes:
Shopping for the food
Tomato relish for the meatloaf
The stuffing for the zucchini
Grating the cheese for the macaroni
Veggies for the salad cut
Below is my first list. I'll rewrite this thing 5 times this weekend as the pressure builds but this is my menu, shopping list and initial timing for Sunday morning to determine make ahead items!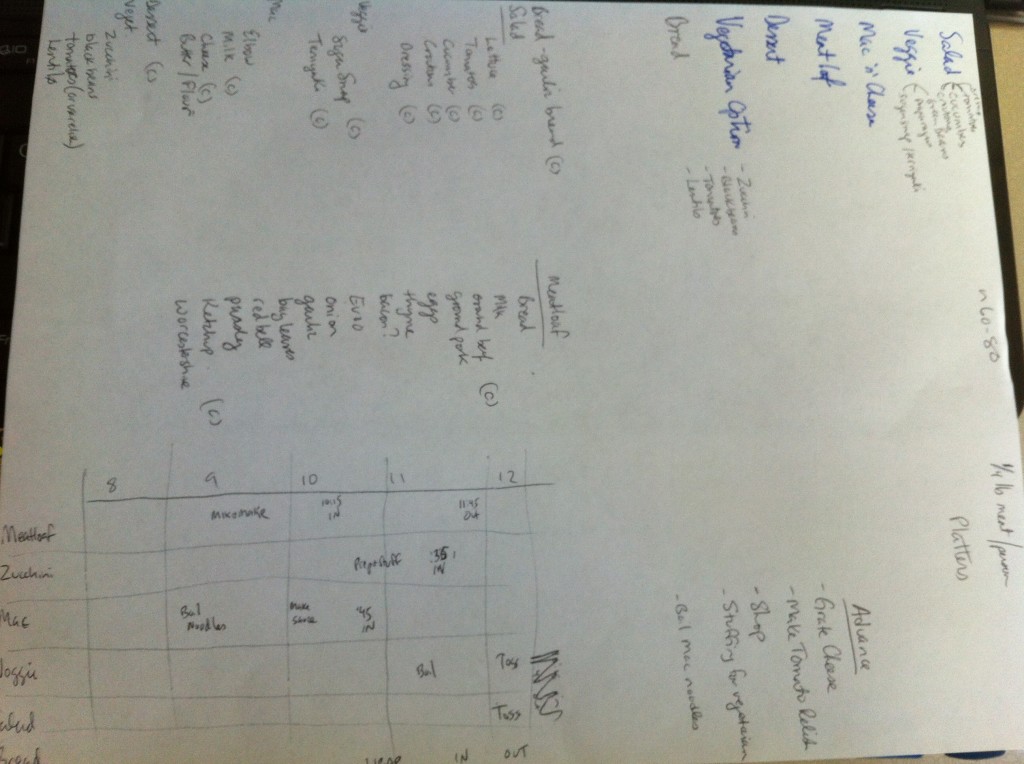 The Volunteers
You can't do this without help so I've kindly asked for and accepted help from several folks. There is a team to setup the Fellowship Hall for us to eat and enjoy beautiful table decorations, someone to collect money, folks to help me in the kitchen, and folks to clean up afterwards.
It takes a village….better yet, it takes a church to feed a crowd. Folks who nourish each other's souls everyday will have their stomach nourished this Sunday. Can't wait!