The other night, my kids asked me for lasagna for dinner. The problem was, it was already 4:30 and there was no chance I was going to the store and starting lasagna at that time of the day, especially on a school night!
I did however have some ricotta at home along with the basic pasta and marinara sauce in the pantry. Baked pasta would do the trick without a need to go to the store.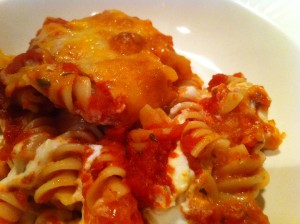 Level of Difficulty: Easy
Time Required: Prep Time – 20min; Cook Time – 30 min
Ingredients:
1 box of rotini pasta (or another shape of your choice)
2 cups marinara sauce
1 1/2 cups ricotta cheese
1/2 cup parmesan cheese
1 t garlic powder
1 t black pepper
1 cup grated cheddar cheese
salt
How to make baked pasta:
Start a pot of water to boil and preheat the oven to 400 degrees. Cook the pasta in salted water until al dente (this will cook a bit more in the oven). Drain and return to pot. Add marinara sauce and toss to coat.
Mix the ricotta, parmesan, garlic and pepper together.
Pour 1/2 the pasta and sauce into a large baking dish (sprayed with cooking spray). Sprinkle with a bit of salt. Add the ricotta cheese mixture by placing small dollops all over the pasta. Top with the remaining pasta. Add the cheddar cheese on top. Place in the oven and bake for about 30 minutes until melted and bubbly.
Great with a nice side salad.