Growing up, pumpkin roll was one of the only desserts I looked forward to eating at the holidays. My aunt always made it and when I moved to California, I really missed it. Since I wasn't a baker (much less a cook at that time), I was afraid to try it but finally bit the bullet for the first Thanksgiving I hosted and made it….twice. I was such a train wreck when I saw the cracks in the cake part after I rolled it up (which is very normal, but I didn't know that at the time) that I dropped it on the floor as I was getting the saran wrap ready. See…everyone has a cooking disaster to share!
This isn't the exact recipe of the pumpkin roll I grew up on, but it's pretty darn close. A few ingredients are altered but the concept is just the same. I have two in my freezer right now. I just hope they last for the holidays!
Level of Difficulty: Difficult
Time Required: Prep Time – 10 min.; Cook Time – 15 min. plus 15 minutes to cool
Ingredients:
For Cake:
1 c. canned pumpkin
1 c. sugar
3 eggs
3/4 c. flour
1 1/4 tsp. cinnamon
1 tsp. baking soda
For the Filling:
8 oz. cream cheese, softened
3 T. unsalted butter, softened
1 c. powdered sugar
1 1/2 tsp. vanilla
Other necessities:
Clean dish towel
1 c. powdered sugar
Saran Wrap
Aluminum Foil
Non Stick cooking spray
Spatula
Special Equipment and Other Items Needed:
Kitchen Aid (or as Melissa calls it a "Stand Mixer")
Large Mixing Bowl
Preparing Pumpkin Roll:
Preheat oven to 375. Line a jelly roll pan with aluminum foil and spray with non-stick cooking spray. Combine the cake ingredients into the Kitchen Aid and mix well. Pour into jelly roll pan and spread evenly with a spatula. Bake for 15 minutes.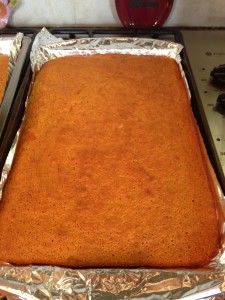 Meanwhile, take a clean dish towel and spread 1 cup of powdered sugar over it. When the cake is done, turn it over onto the dish towel (There will be a puff of sugar smoke in the air so don't expect a tidy kitchen after you make this).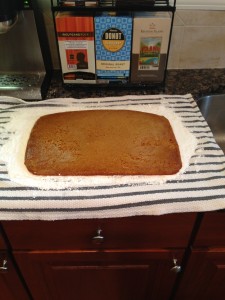 GENTLY peel off the aluminum foil and let it cool.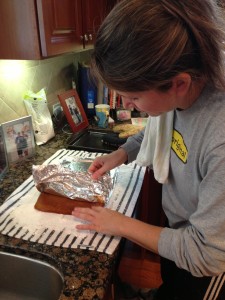 Mix all filling ingredients with a hand mixer on medium speed.  Spread evenly onto the cake.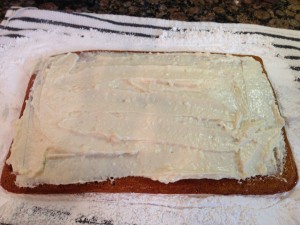 Starting with the short side, roll the cake up.
Immediately wrap in saran wrap, followed by aluminum foil.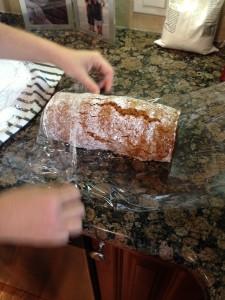 Stick in the freezer. This will stay good in the freezer for about 3 months. When you are ready to serve, take it out of the freezer and unwrap it. Let it sit for about 30 minutes before slicing.
Important Tips:
When it's time to roll, have the saran wrap ready. You have to roll quickly and then wrap it as tightly as you can. It is going to crack and look ugly, but don't worry. It all turns out nicely after it has been in the freezer!
I call it a stand mixer……because that's what it is! Whatever!! I can't wait to try this one. Sounds amazing!! – Melissa