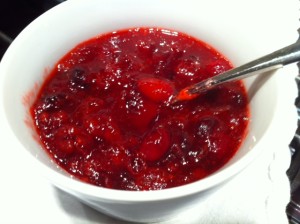 When I was a kid, the only cranberry sauce I knew came out of a can in one big cylindrical lump. It was then, put on a plate and sliced. You could still see the ridges from the tin can!! Dear Lord, that just ain't right!! And they wondered why I didn't eat it.
The pleasures of growing up and having the 'opportunity' to start your own traditions. We serve fresh cranberry at Thanksgiving and Christmas now. I had no idea how ri-donk-u-lously simple it was until my HUSBAND taught me how to make it after we got married. That's just how easy it is folks.
Level of Difficulty: Easy
Time Required: Prep/Cook Time – 20min; Chill time – 2+ hours
Ingredients:
12 oz fresh cranberries
1 cup sugar
1 cup water
fresh orange zest and the juice of whatever orange you zested (ok, I added this little touch)
Special Equipment and Other Items Needed:
Zester (I use my microplane)
How to make fresh cranberry sauce:
Rinse the berries. Place in a pot. Add water, sugar, zest and juice.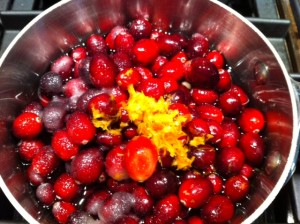 Heat over medium high heat until sugar is melted and berries burst (about 20 mins). Remove from heat and let cool. Place in fridge to cool the rest of the way. You can make this a couple of days in advance and serve cold or room temperature. If you want a kind of a chutney, add some toasted walnuts just before serving (ok, I added this one too, sorry Mark).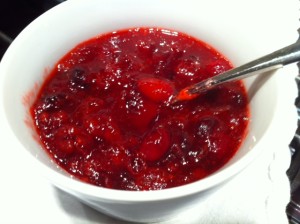 Variations:
Use the cranberry sauce over baked brie for a fantastic holiday appetizer!
Use it as preserves and eat on biscuits or toast for breakfast.