I had the pleasure of being in charge of the snack for my daughter's class Halloween Party last week. It was a lot of fun and even a tad bit 'dangerous' as one of the mom's lost a couple of eyelashes in the process. But that is a different story to be shared over a glass of wine!
My daughter scoured Pinterest for ideas and came across the cutest donut with vampire teeth. I was so excited because my schedule was a bit crazy and this would take no time at all.
Little did I know I would go to 5 stores within an hour just 1 1/2 hours before the party and not find the vampire teeth. Uggghhh! Where was Denise and her plan 1-2 weeks in advance program. My last minute procrastination was not working this time.
So, last second change of events and I opted for a Halloween Trail Mix. This would also be easy to make for any season by changing the Halloween colored candy to the color of the season. I also threw in little rubber rats, snakes and skulls to make them festive. Again, easily replaced with holiday specific toys.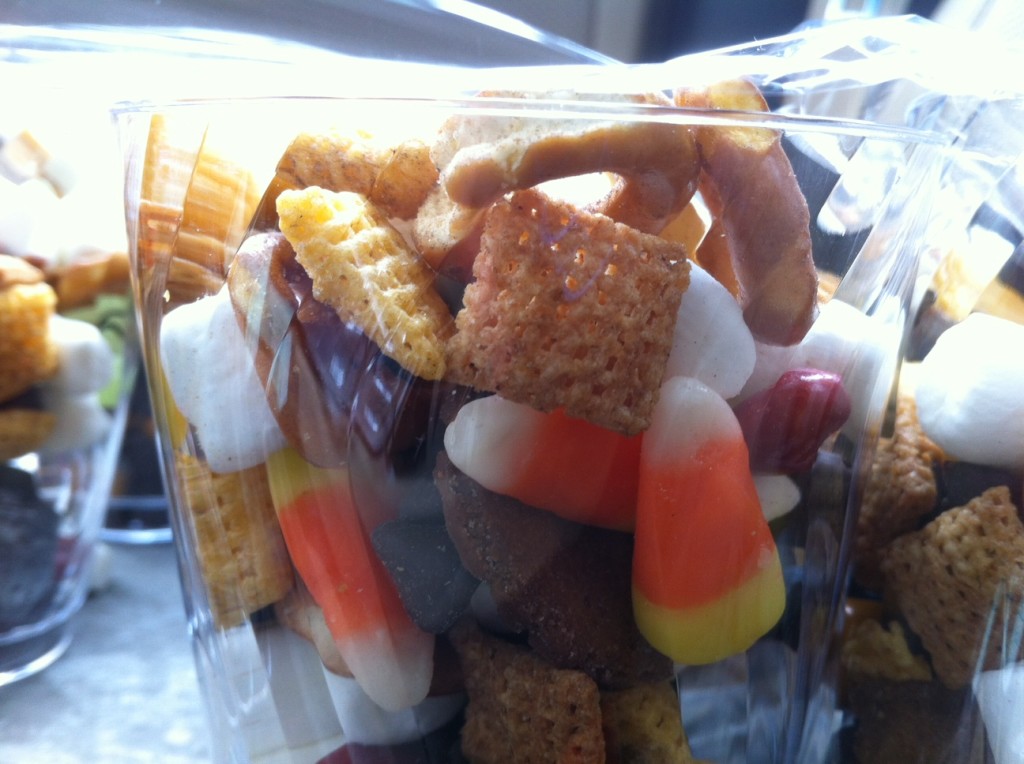 Level of Difficulty: Easy if you don't wait until the last second!
Time Required: Prep Time – 10min; Cook Time – none
Ingredients for 30 large servings:
I was running through the grocery store so fast, but I think this is what I added:
3 bags of Original flavored Chex Party Mix
1 large bag of small marshmallows
1 large bag of chocolate chips
2 bags of Halloween colored M&M's (would have used Reese's Pieces with their colors but peanut allergies!!) (Another season, switch the M&M's of the season)
1 cylindrical container of raisins
2 bags of candy corn (this could be changed out for appropriate colored candy treat)
Something to put the individual servings in. I used a clear plastic cup. Yes, I know, that's lame but did you not get the part where I was sprinting through the grocery store!!
Special Equipment and Other Items Needed:
Something big enough to hold all of this to mix it!
How to make your Halloween Trail Mix:
Open it all, mix it all, put in your individual containers. No other instructions needed.  Now, don't mix the marshmallows until late because the Chex mix will try and absorb the moisture from the marshmallows and will be a bit 'stale'. See! The good thing about being a procrastinator!!!