When I was looking for recipes for Bourbonfest, I wanted to make something that was not just a meat or dessert and came across Bourbon Stuffed Mushrooms from the Jim Beam website. Although it was a decent recipe, I will change it up the next time I decide to make them. Below is my new recipe!
Level of Difficulty: Moderate
Time Required: Prep Time – 15min; Cook Time – 25 min.
Ingredients:
24 medium to large mushrooms
1 c. melted butter
1/2 onion, minced
6 garlic cloves, minced
1/2 c. parsley, chopped
2 T. flour
1/2 c. breadcrumbs with Italian seasoning
1 c. sour cream
1 tsp. salt
1/2 tsp. pepper
1/4 c. shredded parmesan cheese
Bourbon
1/2-3/4 c. chicken broth
Preparing Bourbon Stuffed Mushrooms:
Preheat over to 375 Degrees. Clean mushrooms. Remove and finely chop the stems. In a medium mixing bowl, combine stems with butter, onion, garlic and parsley.  Mix well. Add flour, breadcrumbs, sour cream, salt and pepper. Put the mushroom caps in a shallow baking dish, hollow side up. Put a tiny bit of bourbon in the bottom of each cap. Add the stuffing. Sprinkle with parmesan cheese. Add enough chicken broth to cover the bottom of the baking dish.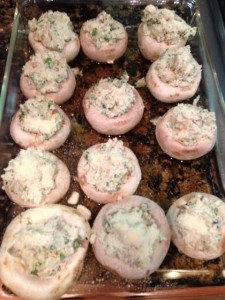 Bake for 25 minutes. Let sit about 2-3 minutes before transferring them to platter.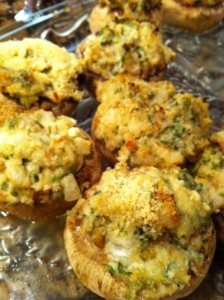 Important Tips:
Make sure you don't put too much bourbon in the mushroom cap. Mushrooms are very porous so they soak it right up. Put the bourbon in a spray bottle and just mist the cap if you like!