My family loves lemon pepper seasoning and it's the favorite flavor of wings when we go out and order them. When I was trying to come up with a new way to make roasted chicken, I thought I'd try to duplicate the flavor of lemon pepper chicken wings while also eliminating a lot of the fat! This lemon pepper roasted chicken certainly fit the bill!
Level of Difficulty: Easy
Time Required: Prep Time – 5min; Cook Time – 60 min
Ingredients:
1 whole roasted chicken
butter
lemon pepper seasoning
Preparing Roasted Lemon Pepper Chicken:
Preheat oven to 450 Degrees. Clean your chicken and place in a roasting pan or glass baking dish. Gently put several pats of butter under the skin. Sprinkle the outside of the bird generously with lemon pepper seasoning. Place in the oven for 20 minutes. Reduce the temperature to 400 Degrees and cook for an additional 40 minutes, or until internal temperature reaches 165 degrees. Let rest for at least 10 minutes before slicing. It really is just that simple!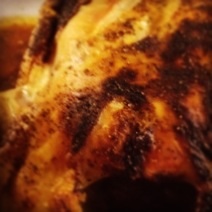 Important Tips:
As with any meat, make sure you let the chicken rest before slicing it to ensure that it stays juicy! Need to know how to carve a whole chicken? Check out this post!
Meal Ideas:
I served the lemon pepper roasted chicken with sautéed kale and roasted potatoes for a complete, easy and delicious meal.
For someone who grosses out at the sight of chicken fat, I find it 'cute' that you don't mind adding butter to your lower fat idea. ~Melissa

A little bit of butter under the skin is way less fattening than deep frying the whole bird in oil my friend! -Denise