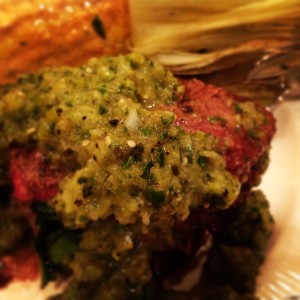 Normally, I think filet mignon should have nothing on it but a nice amount of Kosher salt and fresh cracked black pepper. A meat this perfect, should be allowed to shine. BUT, for our little challenge of trying to be different, I knew Denise would play it safe which meant I had to go out on a limb. I'm happy to report the limb didn't break!
Level of Difficulty: Moderate
Time Required: Prep Time – 10min; Cook Time – 15-20 min
Ingredients for 4:
4 filet mignons, about 2-3 inches thick
3 oz fresh spinach (give or take, it's not rocket science)
4 oz Manchego cheese
Kosher salt
Fresh cracked black pepper
Special Equipment and Other Items Needed:
Toothpicks
How to make filet mignon stuffed with spinach and manchego:
Preheat grill on high heat.
Take your beautiful and thick filet's and cut a small slit in the center of one side. Use that slit to put your knife in and cut a small pocket towards both ends but without going through the meat. Take your time. Feel around with your fingers and see if you've got a large enough pocket with a minimal hole in the steak.
Once you are ready, cut some slices of manchego and stuff into the pocket. Then take a stack of a few spinach leaves, roll them up and shove inside the pocket. Repeat for as many as you can fit. I did 3 rolled bunches of spinach and 2 slices of manchego.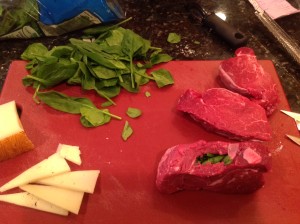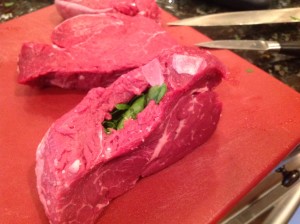 Repeat for the other filets, then secure the opening with a toothpick or two.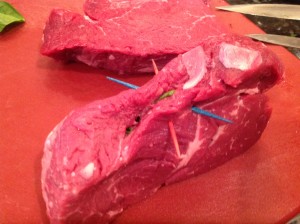 Sprinkle generously with coarse Kosher salt and fresh cracked black pepper.
When the grill is hot, add the steak. Cook on high heat until the meat comes away from the grill grate. If it is sticking, don't turn it! It will release when it is ready to be turned and will give you a nice crust.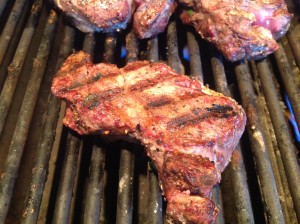 Cook until medium rare. Since these are stuffed, you really can't shove a meat thermometer in there. You'll just have to do by feel and trust yourself.
Remove and let rest before serving.
Here is a view without the salsa.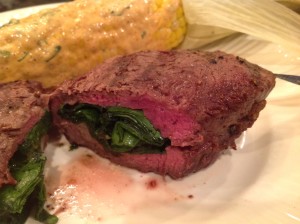 I topped these with a fire roasted tomatillo and poblano salsa too! Delicious.
Important Tips:
Don't overcook the meat and try to make as small of an exterior slit as you can in the beef.
Variations:
Next time, I think I'll choose a more melty cheese instead of Manchego.
You knew I would play it safe? Are you kidding me? Gee, I'm sorry. When you said cook a beef tenderloin on the grill, I took that as COOK A BEEF TENDERLOIN ON THE GRILL! I didn't think to change the rules (like you did last week, and clearly this week) and slice it up to make filets. I will go out on a limb when you least expect it…and you will be wishing that you were at my house for dinner!!!! -Denise

There she goes again. Really? Changing the rules by cooking beef tenderloin on the grill as individual filets? Have you never watched an episode of Chopped? Transform the ingredients!! I can't wait until we do McNack's Chopped. Can we say easy target? ~Melissa