Ever since I ate at Chops for the first time about 22 years ago, I have thought a steak dinner wasn't complete without a delicious side of sautéed mushrooms. When we decided to make beef tenderloin this week and everything on the grill, I knew I was going to have to sneak in some mushrooms somehow. Grilled mushrooms in butter it was!! Normally I sauté the shrooms in garlic and butter. However, they were just as outstanding on the grill!!
Level of Difficulty: Easy
Time Required: Prep Time – 10 min; Cook Time – 5 -7 minutes
Ingredients:
Desired amount of mushrooms
1/4 c. melted butter
Salt and pepper to taste
Special Equipment and Other Items Needed:
Preparing Grilled Mushrooms in Butter:
Preheat grill to medium-high heat. Clean and de-stem the mushrooms. Toss in a bowl of melted butter. Sprinkle with salt and pepper and mix well. Skewer the mushrooms. Place on grill for 5-7 minutes, turning every couple of minutes for even cooking.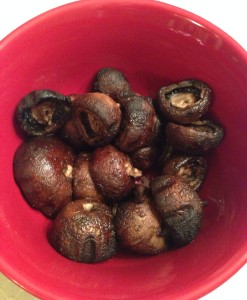 Meal Ideas:
I love to serve mushrooms with a nice piece of grilled meat and a green vegetable to make a complete meal.
Got Leftovers?:
If for some reason you have leftovers, they make a great topping for salads.
I've got nothing to say for this one!~Melissa