I was really wanting to make a vegetable dish for Easter dinner that I had never made before. It's so easy for me to stick with my traditional "go to" dishes like garlic green beans or some sort of roasted asparagus but I was determined not to fall back on those and find something new. I was stuck and made no progress until my friend Mike forwarded me an email from Epicurious that had tons of Easter recipes. This Snow Peas with Toasted Almonds recipe jumped out at me and it was outstanding!
Level of Difficulty: Easy
Time Required: Prep Time – 10 min; Cook Time – 10 min.
Ingredients:
1 T. unsalted butter
1/4 c. sliced almonds
1/2 pound snow peas, trimmed
2 T. minced shallots
1 tsp. fresh lemon juice
salt
Preparing Snow Peas with Toasted Almonds:
First, don't forget to prepare the snow peas so they are well hydrated and crisp.
Then, melt butter in medium skillet over medium heat. Add almonds and cook until golden and fragrant and butter begins to brown, stirring frequently, about 1 1/2 minutes. Add snow peas and shallot; sauté until snow peas are crisp-tender, 1 1/2 to 2 minutes. Remove skillet from heat; add lemon juice. Season to taste with salt and serve.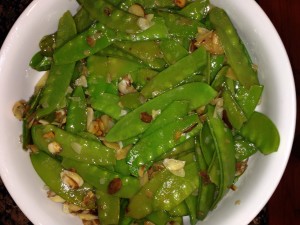 Variations:
This dish would be great with sugar snap peas if you prefer those over snow peas.
Meal Ideas:
I served this on Easter Sunday with Beer Can Chicken, Ribs and Syrian Rice.
Seriously? You had to have Mike forward you an email for inspiration?! What am I, chopped liver? ~Melissa