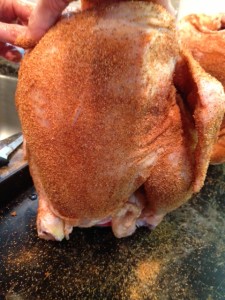 Beer Can Chicken, also known as Drunk Chicken, is one of the most moist and flavorful chickens you will ever put in your mouth, if made correctly. When my sister was in town, she took full charge of making the chickens and they were absolutely delicious! It's all about being patient and not rushing the process!
Level of Difficulty: Moderate
Time Required: Prep Time – 10 min; Pre-Cook Rest Time – 2 hours; Cook Time – 1 1/2 hours; Post-Cook Rest Time – at least 15 minutes
Ingredients:
Whole Chicken, rinsed and cleaned
Your favorite Chicken Rub
Can of beer (or Coke if you prefer)
Special Equipment and Other Items Needed:
Preparing Beer Can Chicken:
About 4 hours before you are ready to eat, take the chicken out of the refrigerator. Clean and rinse it thoroughly. Put the rub all over the inside and outside of the chicken. Place the chicken onto the open can of beer in the beer stand. You don't HAVE to use a stand, but it makes the chicken much sturdier on the grill. Let the chicken rest for 1 1/2- 2 hours.
Preheat ONE SIDE of the grill to medium high heat. Put the chicken on the not-lit side of the grill as you will be cooking it on indirect heat for the entire time. It will take about the 1 1/2 hours for the chicken to fully cook. It is done when the internal temperature reaches 165 Degrees.
Take the chicken off the grill and let rest about 15 minutes before slicing.
Important Tips:
Don't rush it. If you do, it won't be juicy!
Variations:
Use whatever dry rub you and your family likes. Any type of BBQ rub works well as does lemon pepper! Or you can make your own!