No, Bacon Soup Shooters do not have alcohol in them. Let me just say that right off the bat. I can't say how many people asked that at the party!
They are, however, full of yumminess and are such a unique dish to serve at a party. Due to the richness of the soup, I would probably keep this to a shooter size as opposed to having a whole bowl of it. Not sure the arteries can take it!
Level of Difficulty: Moderate
Time Required: Prep Time – 15 min; Cook Time – 30 min.
Ingredients for 16:
12 pieces of thick cut bacon
4 T. butter
2 leeks, chopped
2 russet potatoes, peeled and chopped.
4 cups chicken broth
2 cups heavy cream
2 T. fresh dill, snipped
Special Equipment and Other Items Needed:
Blender
16 shot glasses
Preparing Bacon Soup Shooters:
Cook 4 pieces of bacon in a large saucepan until cooked. When I did this, I followed the original recipe and wasn't a fan of the shriveled up bacon. I needed the bacon drippings so I cooked the rest of the bacon (8 pieces) in a 375 Degree oven for about 30 minutes. Make sure it's cooked and a bit crispy. This is not the time for limp bacon. You can cook the 8 pieces of bacon whenever you like. Just make sure you drain it on a paper towel and then break each piece in half and reserve the drippings (aka rendered fat, grease, liquid yumminess).
After you have cooked the bacon in the saucepan, discard the bacon only. Keep the drippings in the pan and melt the butter over medium heat. Add the leek and potato and cook for 5 minutes. Add chicken broth and cream. Simmer over medium-low heat for about 20 minutes. In batches, puree in a blender. Return to saucepan to keep warm.
To serve: Using a ladle, pour the soup into individual shot glasses. Top with a few sprigs of dill and a bacon slice.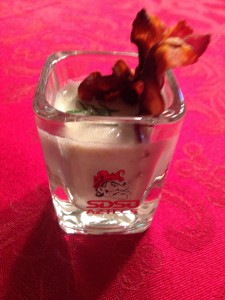 Heavy?! That soup ain't heavy…it's just right…it has bacon in it! ~Melissa