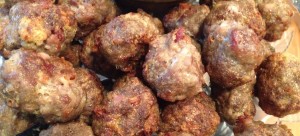 When I was looking through recipes for Baconfest – The Sequel, I came across Double Bacon Meatballs in the March 2014 edition of Food Network magazine. Of course, the name alone caught my eye. Bacon, Beef, Canadian Bacon…how could these possibly be bad? As I usually do, I changed the recipe up a bit as well as the cooking process, but I didn't mess with the 3 main ingredients!!
Level of Difficulty: Easy
Time Required: Prep Time – 30 min; Cook Time – 20-25 min
Ingredients:
2 lbs. lean ground beef
16 pieces of cooked bacon, finely chopped
8 slices of Canadian bacon, chopped
1 c. Italian breadcrumbs
1/4 c. finely chopped onion
2 eggs
BBQ Sauce for dipping
Special Equipment and Other Items Needed:
Preparing Double Bacon Meatballs:
Preheat oven to 425 Degrees. Combine all ingredients together (except BBQ Sauce) in a large mixing bowl USING YOUR HANDS! I know it's gross, but it really is the best way to mix all of the ingredients together. Line a baking sheet with parchment paper and put a wire rack on top of the baking sheet. Spray the rack with non-stick cooking spray. Form 1 to 1/1/2 in. meatballs and place on the rack.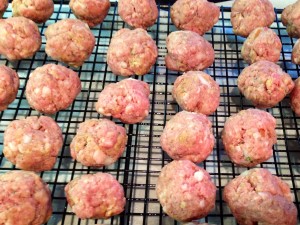 Bake for 20-25 minutes. Serve with BBQ Sauce.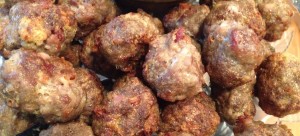 Note: You will have to cook the meatballs in several batches. You can't cook them all at once unless you have multiple wire racks.
Variations:
Change up the sauce however you like. You can even use mustard if you want!