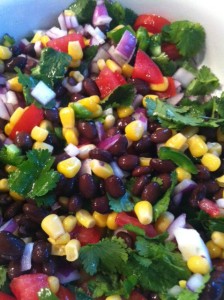 Cinco De Mayo is a "non-holiday" we all have grown to love. Probably because it's a great excuse to eat delicious Mexican food and have yummy margaritas or maybe even do tequila shots!!
If you are hosting a party or need to bring a dish to someone else's house, here are some ideas…
Chips and Salsa – step it up with this quick homemade salsa from Mountain Mama
Queso Fundido from Bobby Flay
Homemade Guacamole – excellent and refreshing
Black Bean and Corn Salad – amazingly delicious
Sweet Corn Cake – what's not to love about this one
Taco Bar (with your standard ground beef and taco seasoning or step it up a notch and make Carnitas)
Quesadillas – try a combo with sautéed onions, mushrooms and chorizo
Here is a great menu idea we posted for a luncheon last month: Carnitas, Black Beans, Yellow Rice and a Parfait with Tres Leches
Sangria – this is phenomenally good!!
Let us know what your favorite cinco de mayo dish is!