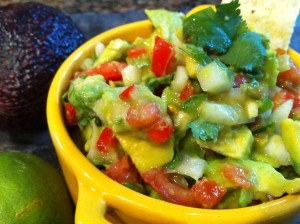 Ever ordered the guacamole at a restaurant that makes it fresh, right at your table? I know that may be a bit cheesy, but man is it good!! There is a reason – guac must be fresh to be good and what's more fresh than made right then? Anything you buy at a store has to have way too many preservatives to keep the avocados green.
Like so many recipes, guacamole is one of those ones that you can make 1000 ways. This recipe will give you the basics, but as we've said before, make it – taste it – change it – make it yours!! God created each of us differently for a reason!
Level of Difficulty: Easy
Time Required: Prep Time – 10-20 min
Some Potential Ingredients:
4 ripe avocados
Juice of 2 -3 limes
Salt to taste
1/2 t cumin and/or cayenne and/or chili powder
1/2 onion, diced (red, Spanish, Vidalia, yellow – your choice)
2-3 medium sized tomatoes, diced
Pick your pepper (jalapeno, habanero, scotch bonnet, etc) and pick your amount, finely diced (see how to cut a pepper)
1/4 – 1/2 cup chopped cilantro
1 -2 cloves garlic, minced
Tabasco or other hot sauce
Making Homemade Guacamole: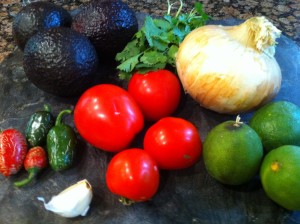 Chop all your ingredients except the avocado.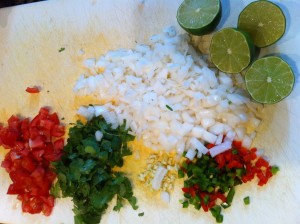 When they are all ready, prepare the avocados. Place in a non-reactive bowl and add the lime juice and make sure all the avocado is coated. Add the salt and cumin and gently mash the avocados using a back of a fork. Give it a quick taste and see if it needs any more salt.
Now comes the fun part. Add all the other ingredients but not all of each of them. Just add bits and pieces, fold them in and taste it as you go. You'll come to find the mix that you like.
Serve with tortilla chips.
The world is your oyster when it comes to varying this recipe.
My selections: 1/2 red onion, 3 tomatoes, cumin and chili powder, 1/2 cup cilantro, 3 limes, 1 clove of garlic, 1 jalapeno pepper, 3 dashes tabasco
What is your favorite mix? Let us know by leaving a comment!
Got Leftovers?:
Add a bit more lime juice on top. Place some plastic wrap directly on top of the remaining guac not just over the top of the bowl. Seal tightly. It won't last but a day or two so eat it soon.