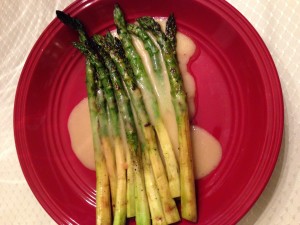 When I asked my husband what green vegetable he wanted with the beef tenderloin, he immediately said he wanted grilled asparagus with hollandaise sauce. Fantastic!! Asparagus is going down in price this time of the year and it is absolutely delicious on the grill… not to mention that it is a great accompaniment to a nice piece of beef. Note to Melissa: Please skip over the part about how I make the hollandaise sauce. It might make you throw up a little bit in your mouth.
Level of Difficulty: Easy
Time Required: Prep Time – 15 min; Marinate time – 30 min; Cook Time – 5 min.
Ingredients:
For Asparagus
1 bunch asparagus
1/4 c. balsamic vinegar
Olive oil (just enough for a drizzle)
Salt and Pepper
For Hollandaise Sauce:
1 package of Knorr Hollandaise Sauce Mix
Milk and butter according to package
Juice of 1/2 lemon (if desired)
Special Equipment and Other Items Needed:
Good quality vegetable peeler
Medium Sauce Pan
Wire Whisk
Preparing Grilled Asparagus with Hollandaise Sauce:
Prepare your asparagus. In a baking dish, toss your asparagus with balsamic vinegar and a drizzle of olive oil. Add salt and pepper and mix well. Let sit at least 30 minutes before cooking. Preheat grill to medium-high heat. Grill for about 5 minutes, turning halfway through. Meanwhile, follow the directions on the hollandaise sauce. It only takes about 5 minutes to make so the sauce will be done about the same time that the asparagus is (asparagus doesn't have to be eaten right after it's cooked anyway). Pour the sauce over the asparagus and voila!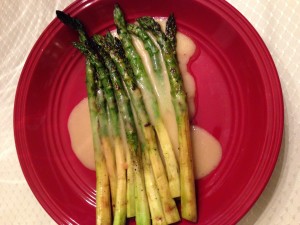 Important Tips:
Make sure you prepare the asparagus properly. It really does make a huge difference. It can be done the day before or even in the morning before you go to work if you want!
Oh dear Lord!! Seriously, powdered Hollandaise? What are you going to add next, how to make instant mashed potatoes? I think you can buy asparagus in Hollandaise in the freezer section too. You could have just put the entire package on the grill and been done. ~ Melissa

I warned you not to read it!!! -Denise