I love food and sauces with a kick. This horseradish sauce adds just enough heat without it being too overpowering. It was found in the November/December 2010 issue of Clean Eating and is a great compliment to a nice steak or tenderloin!
Level of Difficulty: Easy
Time Required: Prep Time – 5 min; Chill time – at least one hour
Ingredients:
1 c. low fat sour cream
1/4 c. prepared horseradish
1 tsp. Dijon mustard
1 tsp. fresh lemon juice
1/4 tsp. sea salt
Preparing Horseradish Sauce:
In a small bowl, thoroughly combine all ingredients. Cover and refrigerate for at least one hour. Remove from refrigerator about 45 minutes before serving.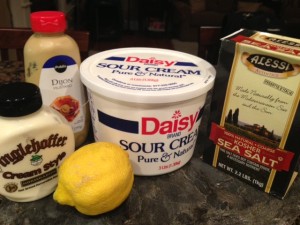 Love horseradish sauce! It also goes great with hasselback potatoes or on a sandwich. Try swapping out the sour cream for 0% Greek yogurt for all the flavor, no fat and added protein! – Melissa