I'm always looking for new ways to make vegetables for my family. I could eat just about any vegetable cooked any way, but I am challenged with getting greens into the kids. I gave these haricots verts with prosciutto a try with the hopes that the kids would eat them since they were similar to garlic green beans, with a few extra yummy ingredients. After I assured them that the prosciutto was not plain ham, they dug right in!
Level of Difficulty: Easy
Time Required: Prep Time – 15 min; Cook Time – 15 min.
Ingredients:
1 pound haricots verts, trimmed
4-6 slices prosciutto (skin on), diced
1 tsp. olive oil
3 cloves garlic, chopped
1/4 c. panko breadcrumbs
Kosher Salt
Fresh Ground Pepper
Lemon Wedges (if desired)
Preparing Haricots Verts with Prosciutto:
Bring a large pot of salted water to a boil. Add the haricots verts. Cook about 3-4 minutes. Drain and immediately put them in an bowl of ice water to halt the cooking process. Drain again and dry thoroughly on a paper towel.
In a skillet, heat the olive oil over medium heat. Add the prosciutto and cook until crisp, about 6-8 minutes. Using a slotted spoon, drain on a paper towel. Add the garlic to the drippings in the pan and cook for 1 minute. Add the panko and cook, stirring constantly until toasted, about 1 additional minute.
Add the haricots verts back to the skillet and mix all ingredients well. Season with salt and pepper. Serve with lemon wedges, if desired.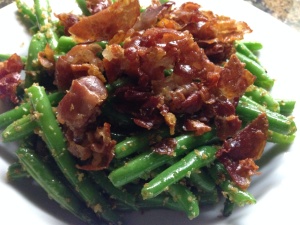 Important Tips:
Don't forget to "shock your green beans", otherwise they will end up mushy.
Variations:
If you don't have prosciutto, you could substitute bacon or pancetta for the meat.
Meal Ideas:
I served this with balsamic chicken breasts and a simple baked potato.