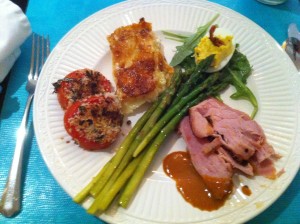 What a beautiful Easter day! We started with an amazing scientific discussion in Sunday School about the 'God Particle' which was just brilliant. It was not just the discussion but the fact the discussion was happening in church. What an amazing faith community we have! It was followed by a beautiful service with a brass ensemble accompanying the pipe organ and ending with the Alleluia Chorus. Then off to the Easter egg hunt – so cute. I know this is a food blog, but I just had to share.
When I got home and put some lunch together for everyone, it was off to the races on the prep list. I essentially stuck to my timeline while getting ahead at time and behind at others. It all worked out at the end and dinner was served right on time.
In the end, the food was amazing!! I love all the recipes that I researched and they all went together so beautifully. I couldn't believe the comments around the table! So many thanks to Food Network, Z Tasty Life, Dad Cooks Dinner, and the Reluctant Gourmet!!
I could not possibly say which dish was my favorite, but I will say this:
The Deviled Eggs were like crack – people were popping them in their mouth whole and moaning with each bite!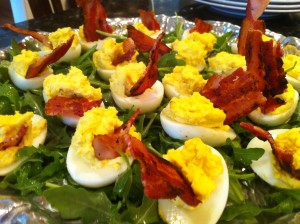 The BBQ Rotisserie Ham was awesome! Such a unique preparation for any ham I've ever eaten. I served it with a mustard based BBQ sauce that just complimented the asparagus and the potatoes so well!! I can't wait to make this again!!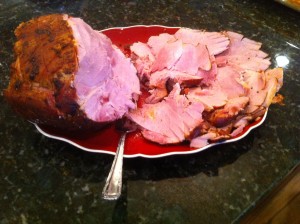 The potatoes were cheesy and yummy and rich. Which proved perfect since the rest of the side dishes were 'lighter'.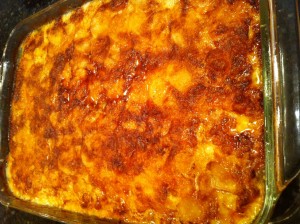 Tomatoes were yummy and fresh with lots of herbs from the garden. I forgot to put olive oil on them and they were still great.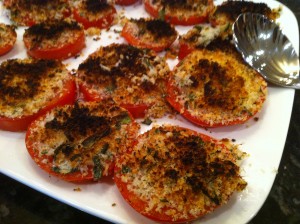 Asparagus is simple and such a hit. The vinaigrette married well with all the other flavors.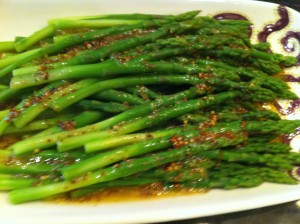 The Pears with zabaglione – oh my! Where do I begin – those were amazing. I was literally using my finger to get every last drop of the wine reduction syrup and the zabaglione. I had never made anything like the zabaglione and was so proud to not have scrambled the eggs. If I had that dish to do over, I would have gone ahead and cooked the pears earlier and reduced the poaching liquid to a syrup earlier as well and only saved the zabaglione to the end.
Let me know if you followed along or if you want to do this meal in the future. Really a great menu!!!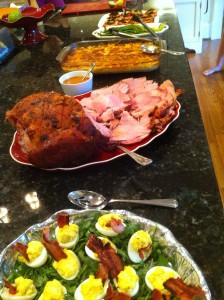 If you missed the other posts related to menu, shopping and prep, click on the appropriate link.