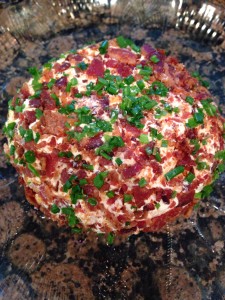 Super bowl party food is pretty much what you would expect. Lots of chips and cheesy dips, but it's easy to step it up a bit without getting too fancy! No, you won't be serving the healthiest of foods, but it sure can be good once a year!!! Our big rule of thumb is that if you have to use a knife, don't serve it!!
Here are some of our favorite Super Bowl Party Foods (this list works for just about any sporting event that you would host that has men, women, and children all on the guest list). Choose your favorites and mix it up. You don't need two hot dips with spinach in it, nor do you need three kinds of meatballs!!
Buffalo Chicken Dip (always a staple)
Mexican Spinach Dip OR Spinach Artichoke Dip
Double Bacon Meatballs OR Meatballs in Red Wine Gravy OR Bourbon Meatballs
Eggy Bear's Sweet Tea Brined Chicken Wings
Bruschetta and Goat Cheese Crostini
Pimento Cheese and Candied Bacon
Jalapeño Poppers OR Jalapeño Popper Dip
Of course, if you don't want to go the about route and make lots of different things, make a big pot of chili and some cornbread and call it a day!!!